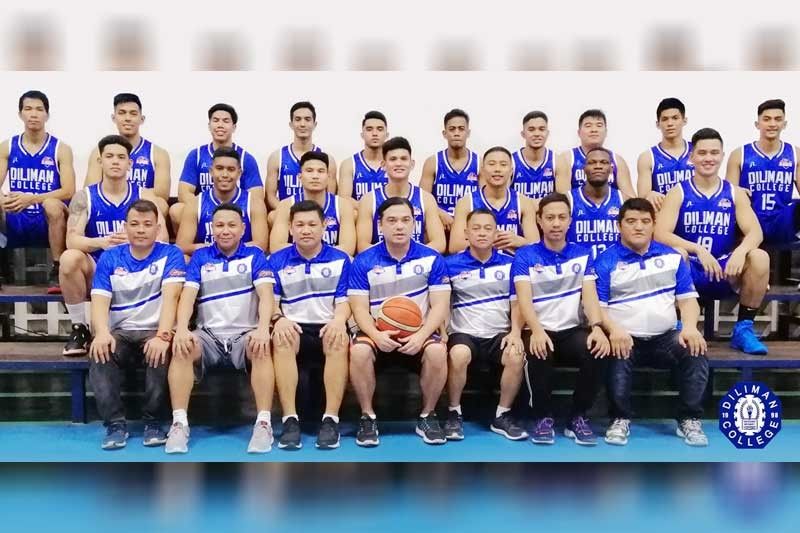 Coach Rensy Bajar (middle) and members of the coaching staff and Blue Dragons who will make their PBA debut on Tuesday.
Blue Dragons 'fighting' underdog in D-League
MANILA, Philippines — Diliman College-Gerry's Grill looks forward to gaining experience as it begins its maiden stint in the PBA D-League.
The Blue Dragons, who reigned in the Universities and Colleges Basketball League last December, hope to sustain their championship form as they test their mettle in the 20-team field.
Diliman College-Gerry's Grill is bracketed in the Foundation Group together with Centro Escolar U, Chadao-Far Eastern, Marinerong Pilipino, Metropac Movers-San Beda, Perpetual Help, SMDC-National U, The Masterpiece-Trinity University of Asia, Valencia City, Bukidnon-San Sebastian and Wangs Basketball.
"Our expectations here are to develop our team and move to another level of competition. This is a good tournament for our team to gain experience in playing in the highest level in the amateur ranks so that when we return to our mother league, we will be ready to defend our crown," said Blue Dragons coach Rensy Bajar.
Diliman College-Gerry's Grill engaged in tuneup matches against the Bataan, Pasig and Marikina teams of the Maharlika Pilipinas Basketball League as well as collegiate teams Emilio Aguinaldo College, Letran and University of the East in its preparation and is looking to improve on its team cohesion.
"Since we have three players coming from other schools, we are working now on the chemistry of the team. Since we are new here, I think we are in the right path but we need to work harder and play harder every game," added Bajar.
Tagging themselves as underdogs, Bajar said the Blue Dragons' strength is their hunger to win and their never-give-up attitude.
"I think our strength is our hunger to win and 'yung attitude na walang sukuan hanggang sa huli. That's our trademark in every league that we play in," said Bajar.
Robbi Darang and John Mahari, UCBL Mythical Five member and Finals MVP, respectively, as well as Benin's Kevin Gandjeto, are notable names in the Diliman College-Gerry's Grill roster but Bajar insists that there are no superstars in their team because they work as one.
"We don't have any superstar in our team. We are one. Our key players here are all of them. They have a role to fill each game. We will not rely on one, two or three players. We will rely on each other as a team," said Bajar.
Diliman College-Gerry's Grill debuts against Centro Escolar University at 4 p.m. on Tuesday at the Paco Arena in Manila.