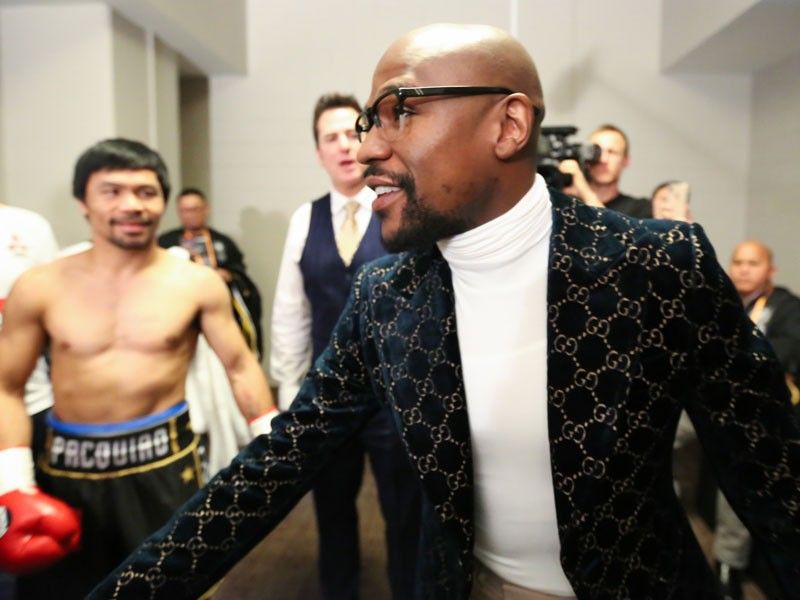 Floyd Mayweather visits Manny Pacquiao in his locker room before his bout against Adrien Broner at the MGM Grand Garden Arena in Las Vegas on Sunday, January 20, 2019.
Wendell Rupert Alinea/MP Promotions
Pacquiao's Plan A: Mayweather in May
MANILA, Philippines – Unless it's the rematch with Floyd Mayweather Jr., Manny Pacquiao will have to set aside his plans of returning to the ring in May.
"At this moment, it appears that way," international matchmaker Sean Gibbons, always close by Pacquiao these days, recently told The STAR.
"We'll see what the next week brings," added Gibbons.
Obviously, Pacquiao is waiting to hear from Mayweather, and hear it straight from the retired superstar that he is ready to do the anticipated rematch.
"Manny is just waiting for Floyd. Manny has already done everything plus more to rejuvenate interest in that rematch," said Gibbons.
"But Floyd has to want the fight. That's where we're at right now. Something has to happen," added Gibbons, 51, who once fought at light-heavyweight.
Otherwise, if nothing is heard from Mayweather, Pacquiao may have to sit it out the next few months than fight in May.
Pacquiao told Filipino reporters two weeks ago he can fight either in May or July, and if successful, may do another one by year's end.
But there's a lot going on for Pacquiao, the senator, who was tapped as PDP-Laban's senatorial campaign manager for the mid-term elections on May 13.
Pacquiao's tenure does not end until 2022 but with his new role, he has his hands full.
"It's the elections," said Gibbons.
"He's working on the campaign doing a lot of stuff for some people," he added.
It has to be Mayweather in May.
No one else.