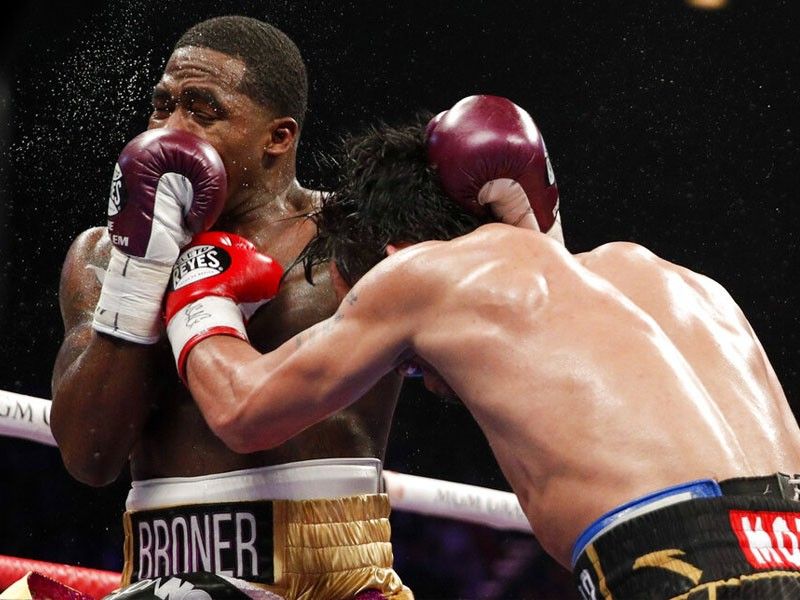 Manny Pacquiao, right, hits Adrien Broner during their WBA welterweight title boxing match Saturday, Jan. 19, 2019, in Las Vegas.
AP Photo/John Locher
Punch stats point to decisive Pacquiao win over Broner
LAS VEGAS – A more aggressive Manny Pacquiao had Adrien Broner on the retreat throughout their WBA welterweight title fight that resulted in an unquestionable victory for the Filipino icon.
Pacquiao simply was the busier fighter Saturday at the MGM Grand Garden Arena here, as evidenced by the punch statistics.
The defending champion unleashed a total of 538 punches, 112 of them finding their mark for a 20 percent connect rate. Broner, in contrast, threw 295 and landed only 50 (17 percent).
Pacquiao was likewise the better jabber (30/371, 8 percent) than Broner (11/115, 10 percent), and rocked the challenger by landing 82 out of 197 power shots (42 percent).
Broner, who had his moments catching Pacquiao with some 1-2 combinations, connected only 39 of the 180 power punches he threw (22 percent).
Twice, Pacquiao had Broner almost out on his feet — in the seventh and nine rounds — and twice, he let his foe off the hook.
Pacquiao said he would've tried harder to go for the kill if not for his corner's advice.
"I would push more but (trainer Buboy (Fernandez) told me that we're ahead and don't be careless," he told the press at the post-fight conference.
Broner simply could not keep up with the 40-year-old Pacquiao's hand speed, and he was often at the receiving end of Pacquiao's trademark combo that includes a left straight to the body followed by a short right to the head.
After the final bell, Broner rushed to a neutral corner, climbed the post and raised his hands in victory. Boos from the 13,025-strong crowd immediately met him.
Asked at the presser if Pacquiao's speed spelled the difference in the bout, Broner responded the other way around.
"I think he was surprised with my speed," said Broner, who won't concede defeat.
"I hit him clean more times. I beat him," he earlier said in the ring.
Not even the numbers can convince Broner otherwise.