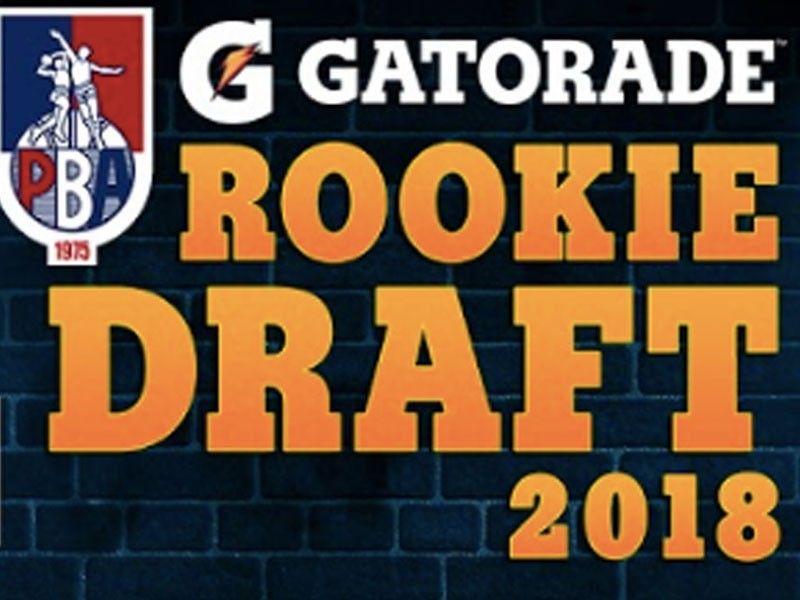 Looking at the 1st round of the 2018 PBA Draft
MANILA, Philippines – The 2018 PBA Draft is done. There were the expected players and the surprise picks. As always, it is how these players integrate themselves into new roles that will determine their team's success and well as personal advancement.
Here are sone thoughts about the first round picks and how they will fight for a slot on loaded lineups.
CJ Perez (1st overall, Columbian Dyip)
When CJay came up with San Sebastian, it wasn't difficult to see why the late Rolly Manlapaz dubbed him, "The Baby Beast" as in the second coming of Calvin Abueva. For sure, this swingman causes mayhem on the court, but not of the physical kind.
When he transferred to Ateneo, he learned to be the Man on Team B. When he made his last stop at Lyceum, what he picked up was his leadership skills.
The sum of all his parts will be put to good use with Columbian, which needs a dynamic force like Perez, who plays both ends of the court and doesn't need a play to be called his way. The question though is his size at 6'1". So it would be interesting to see how he adjusts to the pro game with the taller players.
I don't think Columbian Dyip has a problem scoring. It is more of playing as a team so their success depends too on how their head coach manages them. Does he turn Perez loose? Can he be this team's version of Kiefer Ravena — a game-changing guard?
I am sure that Perez will be up to the task just as he has been in all his stops.
Bobby Ray Parks (2nd overall, Blackwater Elite)
A few years ago, Bobby Ray Parks would have been the top pick of the draft. But that doesn't mean the expectations are less. After all, he's a two-time UAAP and ABL Most Valuable Player.
Parks is like Perez with his do-it-all skills. Plus, he's taller at 6'4". As strange as it may sound, the question is what can he bring to this team? Players like Perez and Robert Bolick Jr. need the ball to thrive. They weren't their league's respective MVPs for being role players.
But more to the question — how will Ray immerse and mesh with his team attitude-wise?
If head coach Bong Ramos can successfully integrate Parks while getting the best out of him, the Elite could really take off (but the loss of JP Erram can tell on this team).
Robert Bolick Jr. (3rd overall, NorthPort Batang Pier)
I don't think Bolick will be handed the ball right away as the Batang Pier have Stanley Pringle. But Bolick will be in a position to learn from one of the best in the game.
What I like about Bolick is the fierce pride that burns within him. He went from the bench to being demoted to La Salle's Team B to a star; a Class A player with San Beda (where he is a part of the Gilas Cadets pool). So, he knows about biding his time then unleashing his talents.
If Bolick takes off, then what a luxury it will be for NorthPort to have two dynamic and game-changing guards in Pringle and Bolick, who has range, great court vision and game intelligence.
Solid pick for this team.
Paul Desiderio (4th overall, NLEX Road Warriors)
I don't think that Paul Desiderio will have a problem integrating himself whether he is at NLEX or Blackwater. He went from being the Man in UP to being a part of their Big Three (with Bright Akhuetie and Juan Gomez De Liaño). In fact, De Liaño took over the team this season as Desiderio flourished in a supporting role.
He won't be posting up though but he will like facing the basket. If he is with NLEX, I think he comes into a great situation. With Blackwater, it depends on how their roster will be built.
People tend to think that Desiderio is one-dimensional. He changed his game this season and became a better facilitator. Plus, in the last couple of years, he improved his face-up game with a pull-up jumper, which in my opinion helps get you that playing time in the pros.
Trevis Jackson (5th, overall Meralco Bolts)
To be honest, I was surprised by this pick. I thought the Bolts would select Abu Tratter or even Jeepy Faundo (since they really need a rim protector) since they need that ceiling.
The Bolts selected Jonathan Grey and Ed Daquioag the previous year — the same spot the 5'9" Jackson will play. Where does this leave Garvo Lanete?
If Jackson can provide the consistency from the backcourt, he will get his playing time.
Jayvee Mocon (6th overall, Rain or Shine Elasto Painters)
I think Mocon comes into a good situation where he can establish himself with the Elasto Painters needing a gunner (as Chris Tiu will in all likelihood retire) and James Yap in the twilight of his career.
A plus-side to Mocon is he doesn't mind playing with others who hold on to the ball. He is always ready in and around the basket.
Abu Tratter (7th, overall NLEX Road Warriors)
The former La Salle big man is moving to Blackwater. Abu reminds me of former San Miguel Beerman Dorian Peña; snarl included. I always thought of him as a complementary player, one who thrived with a solid center as Abu played the four. He played with Arnold Van Opstal and Ben Mbala at the slot. Like Peña, he's good in scavenging, getting put-backs and playing tough D. But if they can get this big man to add a medium range jumper, he'll be even more of a threat.
When I first saw him on La Salle's Team B, he also ran the floor. When he moved up to the UAAP team, they ran a half-court offense and I thought that somewhat negated his athleticism and ability move up the floor. If they can get more out of what he does, he'll bring what Peña brought to the Beermen.
Jayjay Alejandro (8th overall, Rain or Shine Elasto Painters)
Two years ago, in his final year with the NU Bulldogs in the UAAP, he was an outstanding two guard who was so deadly. He played like Paul Desiderio for UP — a do-it-all player who got it done in the crunch.
Alejandro hasn't set the world on fire since, but this guy is a pistolero. I do hope they do not use him exclusively as a spot-up shooter because that is not getting the best out of Alejandro. This guy can slash toward the basket and create as well.
It will be interesting to see how his pro coach uses him.
Jesper Ayaay (9th overall, Alaska Aces)
Hmm. The second coming of Merwin Castelo (who also played for the aces)? Like Castelo who was a fave of mine when he was with San Beda in the NCAA), a jack of all trades but a master of none. Hence, coming in as a role player.
The onus is on the former Lyceum Pirate to crack this veteran lineup of the Aces.
Michael Calisaan (10th, overall Magnolia Hotshots)
I love Calisaan's game. A rugged undersized do-it-all forward for San Sebastian. The question is how does that translate into the pros? He cannot play the four or five spots as he did for the height-challenged Stags in the NCAA. At best — what — a three-spot guy?
But he enters the Hotshots with a chance to find a spot on the roster as they do not have anyone like him; a stretch player who does a lot of dirty work.
JP Calvo (11th, overall Columbian Dyip)
Calvo'e effectiveness will be determined if the former Letran guard is allowed to run an offense and how much latitude is given. He is a point guard, but do you hand him the ball over Perez or the other holdover guards? His ability to hit the outside will also determine a spot on the roster.
I like Calvo because he is a tough competitor. His demeanor never changes. He is tough, crafty and a total team player. But make no mistake, he will face challenges in the pros. I like his attitude because as long as I have watched him lead the Letran Squires, then play behind top guards like Kevin Alas and Mark Cruz with the Knights, he has done the job with quiet efficiency. Granted the pros are different, if given the chance to play, he will do well.
Jorey Napoles (12th overall, Phoenix Fuel Masters)
A surprise pick. But Coach Louie Alas has always had an eye for those flying below the radar. Napoles could be a sleeper pick. He reminds me at times of Allein Maliksi (who was so below the radar as he had an unspectacular collegiate career) or even fellow draftee Michael Calisaan. Napoles played for TIP and Marinerong Pilipino and quietly became a steady contributor. Did Alas see another Kevin Racal in him?
No doubt, as the saying goes — sugal pick — as he will fight for a slot behind Matthew Wright, Calvin Abueva and JC Intal. I like his willingness to rebound and play defense. He will have to really shine to get a slot on this team on the upswing.