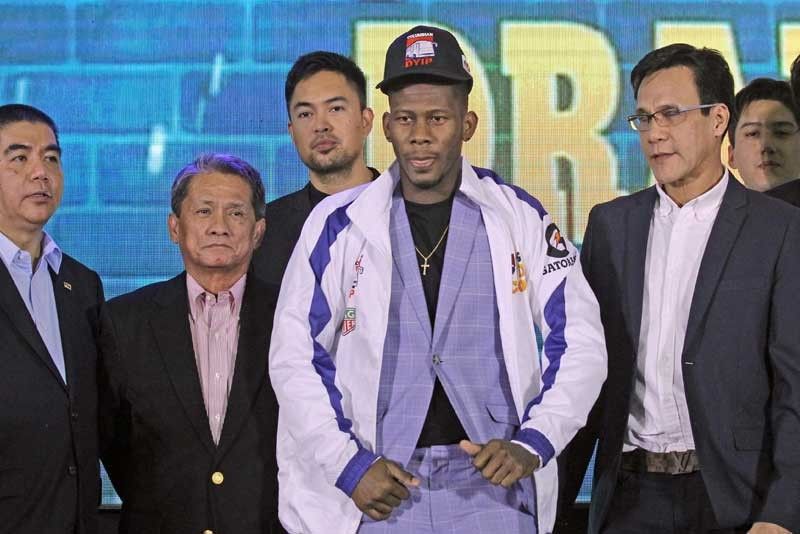 CJ Perez joins the Columbian team as the No. 1 pick of the PBA Annual Draft at the Robinsons Manila
Jun Mendoza
Top draft pick promises hard work
MANILA, Philippines — Carving out a name in amateur basketball as an energy guy, CJ Perez promised to do what he always does, exert best effort in every game as the NCAA star formally became the No. 1 draft selection by Columbian Dyip in the 2018 PBA Rookie Draft at Robinsons Place Manila last night.
"Hustle, energy and intensity," said Perez of what he's to contribute in Columbian's bid to be competitive and be relevant in its fifth season in the local pro league.
Perez, who could well be the face of the franchise soon, is expected to settle down right away with the Dyip especially as the management is prepared to sign him right away to a maximum contract.
"Three years max yan," said Columbian top official Bobby Rosales of their plan for the player with whom they're likely to build their team around now.
As expected, Blackwater and NorthPort made Bobby Ray Parks and Rob Bolick as the second and third draft selections, then NLEX pulled a surprise no one anticipated in naming UP Maroon Paul Desiderio as the fourth pick.
"Amin na ito," said NLEX coach Yeng Guiao before mentioning the name of Desiderio, fresh from a superb run in his final year in the UAAP.
NLEX was expected to pick Abu Tratter at No. 4, but the Road Warriors landed the former La Salle forward just the same at No. 7.
In a masterful stroke, Guiao got Desiderio and Tratter to fill in for Alex Mallari and Dave Marcelo whom the franchise dealt to the Phoenix Fuel Masters in a trade a few days ago. With the bright move, the Road Warriors have become younger, fresher at point guard and forward spots.
Desiderio is likely to get playing minutes right away as the Road Warriors are still waiting for the return of Kiefer Ravena and Kevin Alas.
Picked at No. 5 was Fil-Am guard Trevis Jackson by Meralco then plucked at No. 6 was 6-foot-3 forward Javee Mocon by Rain or Shine.
At No. 8, Rain or Shine drafted guard J-Jay Alejandro, then Alaska Milk chose wing man Jasper Ayooy at No. 9, Magnolia selected forward Mike Calisaan at No. 10, Columbian enlisted playmaker CJ Calvo at No. 11 and Phoenix Petroleum picked Jorey Napoles at No. 12 to close out the first round of the draft exercise.
Parks couldn't make it to the well-attended event as he's with his San Miguel Alab team playing against the Indonesian team in the ABL in Surabaya.
The rest of the draft hopefuls came in their Sunday best in the first PBA draft under league commissioner Willie Marcial.
All the teams got first-round picks except San Miguel Beer, TNT and Barangay Ginebra.