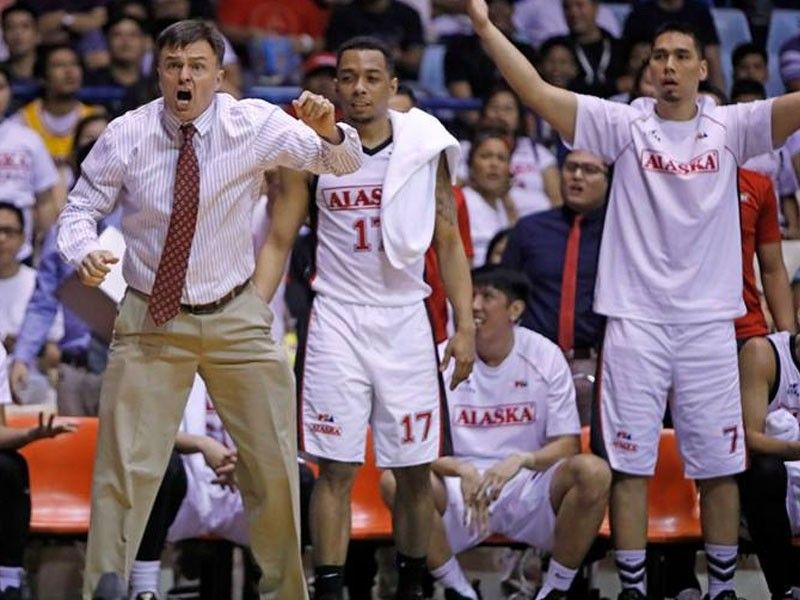 Alaska head coach Alex Compton now braces for a Magnolia fightback after being dealt their worst defeat in PBA finals Sunday over at the Ynares Sports Center in Antipolo.
PBA Images
Alaska's Compton believes Hotshots won't be routed again
MANILA, Philippines – Inasmuch as he wants a repeat of their Game Three blowout win, Alaska coach Alex Compton is realistic Magnolia is so smart and so talented a team to get beat badly a second straight time.
"While it would be great to hope it happens again, I don't think it would," said Compton on what could be in the offing in Game Four of the PBA Governors Cup Finals Wednesday at the Smart Araneta Coliseum.
"I'm not into guarantees, but I can almost guarantee there won't be another game like (Game Three). I expect Game Four to be like Game Two," he added.
The Alaska bench chieftain now braces for a Magnolia fightback after being dealt their worst defeat in PBA finals Sunday over at the Ynares Sports Center in Antipolo.
Blown away 84-100 in Game One then coming up short, 71-77, in Game Two, the Aces worked harder and pushed harder to fashion out a 100-71 rout.
"I don't think (Game Four) would be anything like Game Three. Magnolia is a great team filled with warriors. They're a well-coached team, a talented team with great experience. They're gonna come back and bring everything on Wednesday," said Compton.
"We're gonna come back with the same intensity, and hopefully we make some shots," added Compton whose team performed superbly on both sides to foil the Hotshots' bid for a 3-0 series lead.
Meanwhile, after Game Three, Magnolia coach Chito Victolero took his turn to make a rant against the officiating.
"Coach Alex did a good job of calling the attention of the referees the last game. I think nakuha na niya yung attention nung mga referees doon sa sinasabi niya na my guards keep on fouling and my guards are playing dirty," said Victolero.
"The referees are not calling on our side and the referees are calling on their side," he added.
"I kept on reviewing the tapes. Wala naman ginagawang masama yung mga players ko. (In Game Three), the Alaska players are holding my players and the (refs) don't call a foul. I don't know how the referees will call in the next game, but I want them to be consistent. Yun lang naman ang request ko even before the start of the series – consistency," he further said.
Meanwhile, PBA commissioner Willie Marcial warned the two coaches of possible fines if they continue to air complaints on officiating on the media and not on the league's technical committee.
"If they have complaints, bring it to our technical committee," said Marcial.
"Actually, we have reviewed Game Two, and I didn't see the karate chops that coach Alex Compton was complaining. I will also review Game Three, but offhand, I think it's a well-officiated game," Marcial also said.
"It's been a well-officiated series. Kung meron man hindi magandang tawag, I think it's in the first half of Game One, but the refs did well in the second half," he added.