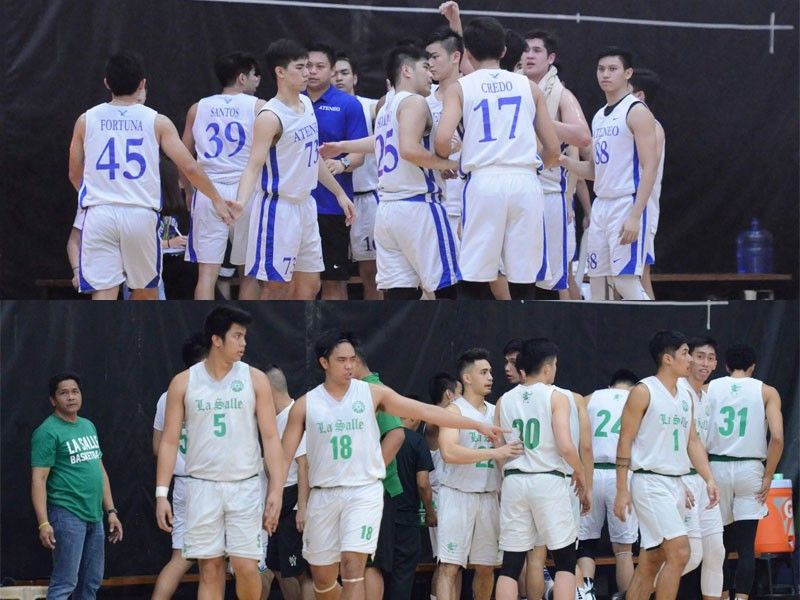 La Salle and Ateneo's Team Bs will play each other this weekend.
Archers, Eagles collide in BBI cagefest
MANILA, Philippines – Still can't get over the 81st UAAP men's basketball tournament?
Fans of the blue and white and the green and white are in for an early Christmas treat when Ateneo clashes with La Salle this 12:30 p.m. on Saturday.
You didn't read that wrong. The two schools' respective Team Bs take on each other at the Men's Under-25 division of the sulit.ph Breakdown Basketball Invitationals at the Moro Lorenzo Sports Center inside the Ateneo de Manila University campus in Loyola Heights, Quezon City.
The Green Archers tote a 2-1 record while Ateneo is at 1-2.
La Salle is coached by Karl Santos, and making their lineup are UAAP veterans Gabe Capacio, Mark Dyke, Encho Serrano and Miggy Corteza, with transferees Jordan Bartlett, Kurt Lojera, and Tyrus Hill in uniform. Also lined up are Donn Lim and Ralph Cu, who were among the last cuts for their UAAP squad this year.
The Green Archers lost their opening assignment to San Sebastian, 67-60, then rattled off two wins — 79-44 over the Manuel L. Quezon University Stallions, and 65-63 over the Our Lady of Fatima University Phoenix.
The Blue Eagles, for their part, are coached by Yuri Escueta, who only has one UAAP veteran in Jawuan White (he missed the recently concluded Season 81 and played in Season 80). They do have Pat Maagdenberg, Gabe Natividad, Jason Credo and RV Berjay, who suited up for the Blue Eagles' Team A during the last summer tourneys. Expected to contribute for Escueta are homegrown players Andre Flores, Eroll Pastor and Migs Fortuna.
Credo and Berjay are former Batang Gilas players while Pastor, who graduated from Ateneo de Cebu, suited up for DLSU during the past Filoil Flying V Preseason Cup, but chose to enroll at Ateneo de Manila instead.
The Blue Eagles lost to UP in overtime, 88-82, after which they were crushed by the rampaging San Sebastian Stags, 76-46. They finally managed to bag a 79-69 win over MLQU the past weekend.
The Under-25 Division showcases the aspirants for schools' UAAP, NCAA or NAASCU leagues. Taking part are the Team Bs of AMA Computer College, Ateneo de Manila University, De La Salle University, Manuel L. Quezon University, Our Lady of Fatima University, San Sebastian College, Technological Institute of the Philippines and UP.
Entrance to the sulit.ph Breakdown Basketball Invitationals at the Moro Lorenzo Sports Center is free.