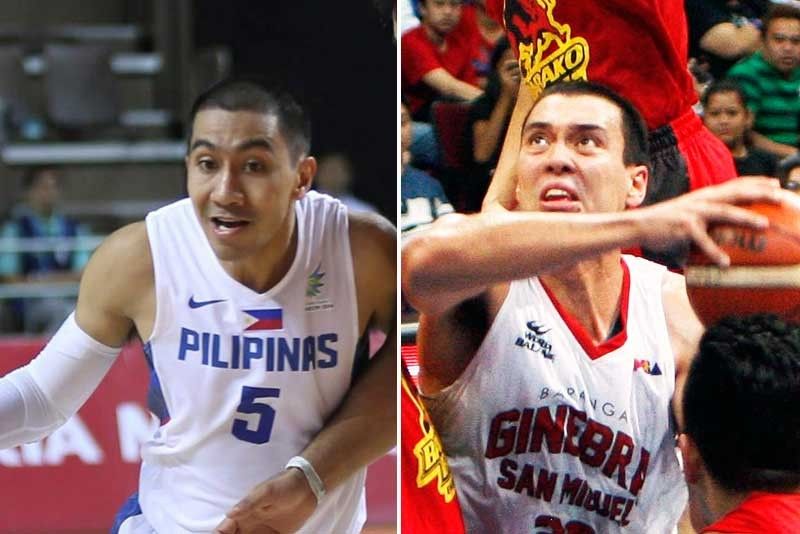 L. A. Tenorio, Greg Slaughter
L. A. Tenorio, Greg Slaughter pay tribute to school support
MANILA, Philippines — Former Ateneo stars L. A. Tenorio and Greg Slaughter said the other day without the support of the Loyola community, the Blue Eagles program couldn't be as successful, citing continuity from the rebuilding year of 1999 as the key to capturing eight of the last 17 UAAP men's basketball championships.
Tenorio, 34, played on Ateneo's 2002 title squad while Slaughter, 30, saw action on the last two of the Eagles' five-peat run that ended in 2013. With Ateneo's sweep of UP in the Finals this season, the Eagles have now won two crowns in a row.
"We've paid our dues," said Tenorio, appearing with Slaughter in a press conference at the UST Varsitarian's national student journalism convention "Inkblots" at the Benavides Auditorium on the Espana campus last Wednesday. "Dati, madalas kulelat kami. But since 1999 when we started a concerted effort to rebuild, we've been able to succeed. That was the start of our Final Four run. We recruited players, we trained abroad. The school community gave its 100 percent support. Win or lose, the players saw how the school continued to back us up. Eventually, the hard work paid off but we'll always remember the dark days of before."
When the UAAP instituted the Final Four in 1994, Ateneo missed the semifinals five straight seasons. Then the turnaround came in 1999 and since that year, Ateneo has made it to 19 of the next 20 Final Fours highlighted by the five-peat under coach Norman Black and now the two-peat under coach Tab Baldwin.
Slaughter said he came on board for two championships to cap the five-peat. "L. A. started it for us in 2002," he said. "He showed that we can be successful. Winning in college basketball is a different challenge from winning in the pros. In college, players come and go and schools need to constantly recruit to fill in spots. Then, there's the pressure of making time for studies and sports."
Tenorio said as an Ateneo freshman, he was nearly kicked out because he was a fraction of a point below the acceptable grade point index. "Studies are the priority in Ateneo," he said. "When I was in school, I overcame the pressure of studies and sports by always being prepared. If you're not prepared and you take an exam, chances are you won't do well. If you're prepared, you're confident of succeeding whether in studies or sports."
Slaughter said when he was in school, balancing studies and sports wasn't easy. "I didn't realize it then but I realize it now that basketball isn't a guaranteed thing and education is something to fall back on after basketball," he said. "There's pressure to do well in class and sports but that's the challenge of a student athlete."
Tenorio said if he weren't an Ateneo graduate, he would've cheered for UP in the recent Finals. "UP was exciting to watch this year," he said. "They were motivated and hungry. I would've definitely cheered for UP (in the Finals) if I didn't come from Ateneo." Slaughter said the same thing. "You've got to appreciate UP's season," he said. "For a long period of time, they were never in contention in the UAAP and were always out of it. So it was nice to see UP challenge for the championship. I hope UP continues to grow as a team and keep contending for the title. But of course, I'm with Ateneo all the way."
UP's dream-like campaign started off on the wrong foot as the Fighting Maroons opened with a 1-3 record. But UP won seven in a row, including two over Adamson in the semifinals to survive a pair of do-or-die games, to qualify for the Last Dance. The Maroons fell short of claiming their first title since 1986 but gained the respect of every UAAP school for their grit, courage and spirit.