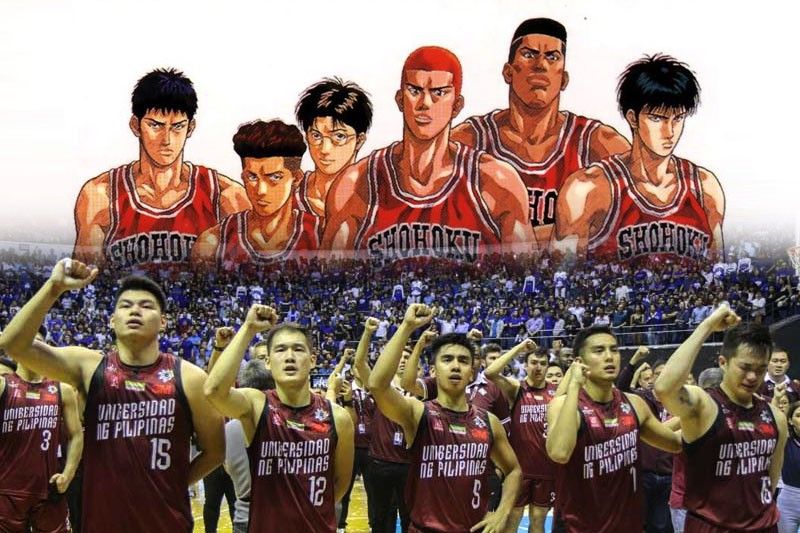 If the UP Maroons find their way to Japanese manga culture, they could be the equivalent of Team Shohoku.
UP fans liken underdog Maroons to Slam Dunk's Shohoku
MANILA, Philippines – Are you familiar with the anime and manga series "Slam Dunk?" You definitely had that "childhood life" if you tuned in to the television right after you take off your school uniform.
For some fans, the similarities between University of the Philippines and the manga's protagonist team Shohoku are quite obvious.
After the Ateneo de Manila University Blue Eagles bested the Fighting Maroons in Game Two of the UAAP Finals Wednesday, 99-81, the UP community took to Twitter and expressed their support for their school.
In the anime, Shohoku is the underdog throughout the season, the same as UP in its series against the Blue Eagles. On the other hand, defending champion Ateneo is most likely the Kainan in this battle, with both being powerhouse teams.
Watching the UP vs ADMU game was like watching Shohoku vs Kainan sa Slam Dunk. Haha!! Talo pero Shohoku parin! #UPFight

— Raphael Ngan (@RaphaelNgan) December 5, 2018
Parang Shohuku vs. Kainan yung laban mamaya hehe. #UAAPFinals #UPFIGHT #slamdunk

— Franco Rulloda (@francorulloda) December 5, 2018
But some UP supporters begged to disagree. Ateneo might also be Ryonan, another crowd favorite team in Slam Dunk.
#BattleOfKatipunan prng shohoku vs ryonan lang.kaia yan!!! #UAAPSeason81 #UPFight #

— Hela.kite (@HelaKite) December 5, 2018
For context, Kuroko [no Basket] is also an anime series about basketball. But for this UP fan, this Finals series is definitely an episode of Slam Dunk.
ok but watching this game feels like watching anime– not quite like kuroko, but uh maybe idk... slam dunk?? esp the part where im rooting for previously underdogs to take home the bacon with hardwork, teamwork, passion and immense support from their homeland ooof ? #UPFight ?????

— daphne ???? (@daphnedi_) December 1, 2018
This supporter is ecstatic for the next season, naming prized rookie recruit Kobe Paras as [Hanamichi] Sakuragi, the main protagonist in Slam Dunk. Ricci Rivero, a former De La Salle University star, will also suit up for the Maroons next year.
Amin na ang Season 82 kasi kumpleto na ang Shohoku...Lalaro na po si Kobe "Sakuragi"Paras
????????????

Congratulations UPMBT#UPFight #Strong16 #AtinTo

— Beverly Cuba (@slowniB) December 5, 2018
Ateneo may have won the crown anew but UP captured the hearts of its community. The Maroons' runner-up finish is their best showing since they bagged the title in 1986, or 32 years ago.

In 1996 and 1997 however, the UP appeared in the Final Four but succumbed to University of Santo Tomas and Far Eastern University, respectively.
UP is definitely done being cellar-dwellers in UAAP basketball. Who knows, there could be an Ateneo-UP finals rematch in Season 82.
Champion nga pero sino bida sa slam dunk??? #UPFIGHT

— rose-colored boy (@thomiewoo) December 5, 2018
Yung shohoku di rin naman nanalo sa finals, pero they won our hearts ???? #UPFight

— Montenegro #5???????????? (@cellinemcm) December 5, 2018