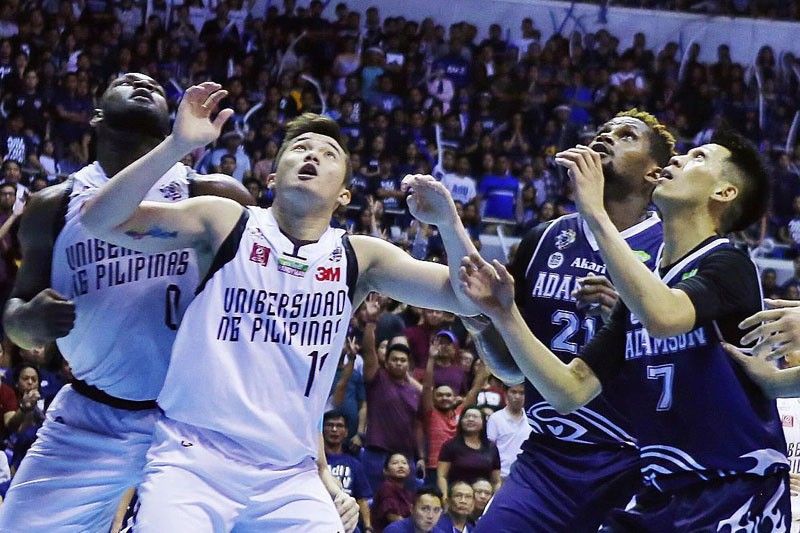 Maroons set aside revelry, gird for final war
Olmin Leyba
(The Philippine Star) - November 30, 2018 - 12:00am
MANILA, Philippines — Know that feeling of celebrating a major milestone without a care in the world but can't afford to do so?
That pretty much sums up the situation University of the Philippines is in after ending an agonizing 32-year wait to reach the UAAP men's basketball finals once again via a pulsating 89-87 overtime victory over Adamson Wednesday night.
By getting the past the second-seeded Falcons, the Maroons found themselves smack in the nest of the mightiest birds in the field – the top-ranked defending champion Ateneo Blue Eagles – in the ultimate battle.
"Oh my," were the first words that came out from UP coach Bo Perasol when asked about the best-of-three title showdown with the Eagles in the midst of the hoopla.
"Ateneo, they're a very formidable, tough team but right now, what I need all of us to do is just settle down, make sure we enjoy this first and probably after 12 hours sit down, think what we're going to do in order for us to have a chance against Ateneo. But make no mistake about it, we'll keep on fighting; that's the trademark of this team," added Perasol.
Arguably the one that embodies such no-quit attitude and firm belief in UP the most is fifth-year Paul Desiderio, who has time and again saved the day for the Maroons with clutch buckets. His now immortal "Atin To" statement – a battle cry he mouthed during a huddle last season before hitting the game-winning trey – has become a rallying point for the UP side determined to regain lost glory.
Desiderio delivered the dagger in the rubbermatch and made sure it went the Maroons' way.
"Sobrang saya, lalo pa't graduating na ako. Anuman ang chance namin sa finals, iga-grab namin," said the veteran gunner.
The Maroons are embracing the underdog tags versus the back-to-back-seeking Eagles.
"No basketball aficionado in his right mind would probably give us a good chance against Ateneo. But then we would want that (underdog) tag," said Perasol, who's facing his old team for the first time in the Last-Dance, too. "We'll keep fighting no matter what the odds are."
The fight is, indeed, truly back in the Fighting Maroons.