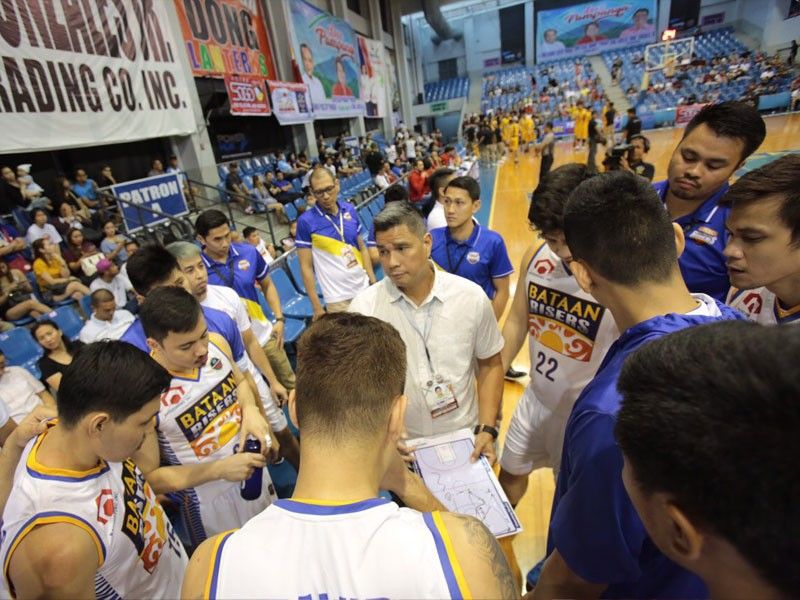 The Bataan Risers are currently the hottest team in the MPBL.
Bataan mows down Basilan for 12th straight MPBL win
MANILA, Philippines – The Bataan Risers won their 12th straight match in the Maharlika Pilipinas Basketball League Datu Cup, a 108-77 blowout of Basilan Steel at the Angeles University Foundation Gym in Pampanga.
Byron Villarias led the streaking Risers with 23 points as every single player sent in by Bataan head coach Jojo Lastimosa scored at least two points.
After the Risers posted a 10-point lead following the end of the first quarter, 34-24, the league's hottest team broke the game wide open in the second frame by hiking the lead to 24 heading into the half.
It was the unlikely duo of Vince Tolentino and Al Carlos who presided over the second quarter blitz. Tolentino, one of Bataan's two Gilas cadets, scored six points and issued a brilliant assist to Carlos, who fired in five points in the same stretch to push the lead to 45-27, with 7:55 left in the first half.
Feeding off the stellar play of the duo, the rest of the Risers pitched in, with Pamboy Raymundo and Villarias closing out the second period scoring with four straight points. They also did it on defense with Raymundo blocking Ar-raof Julkipli and Robbie Celiz rejecting Basilan forward-center Macky Acosta's late gasp triple attempt. Celiz, playing the point forward position, displayed his playmaking abilities by chalking up 12 assists.
Come the second half, the Risers beat back every attempt at a rally by Basilan while answering with their own flurry of points.
Bataan dominated the boards with a towering 59-41 advantage that they translated into 19 second chance points and a 9-4 advantage in fastbreak points. The Risers also pounded the Steel inside to the tune of 52 inside points (while Basilan managed only 34).
The willingness to attack inside saw Bataan shoot 53 percent from the field while Basilan which bombarded from the outside but was off target shot a poor 33 percent.
Also scoring in double digits for Bataan was Raymundo, who added 15. Gary David broke out of his slump by chipping in 14 points, including two triples. Tolentino contributed 10 points.
For Basilan, Dennis Daa topscored with 25 points.
"It is always difficult to play a team you know you are supposed to beat," cautioned Lastimosa. "There's a tendency to take them for granted. Bataan is still trying to create a habit of playing consistently regardless of who our opponent is."
"We have had some games where we struggled against teams and I was wary about Basilan," added Lastimosa. "I'm glad that my message of not taking the opponent for granted was received well during the game."
Lastimosa chose to downplay the streak, the longest in the MPBL's short history. "The streak is good, but there are a lot of areas where we can improve. Right now, I just want to focus on our next game."