Curry sets another record for 3s as Warriors hold off Nets
October 29, 2018 | 12:52pm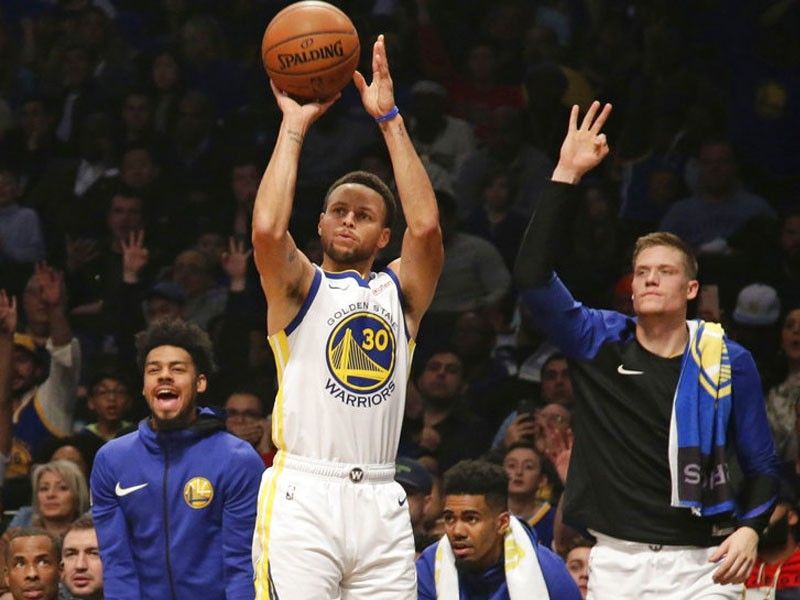 NEW YORK — Golden State appeared on its way to another easy victory when the game suddenly turned into a 3-point shootout.
Luckily for the Warriors, they have the perfect guy for that.
Stephen Curry set another NBA record by making seven 3-pointers and finished with 35 points as the Warriors held on to beat the Brooklyn Nets, 120-114, on Sunday (Monday Manila time).
Kevin Durant added 34 for the Warriors, who were coasting before the Nets made it close with some sizzling shooting behind the arc.
https://sja.sportradar.com/w/Philstar%20Global/15331310/313100
Curry finally turned them back when his final 3-pointer made it 115-108 with 1:07 to play. He has made at least five 3s in all seven games, breaking George McCloud's record of six games in a row during the 1995-96 season.
"They got hot in the fourth to try to make it interesting, but made enough plays down the stretch to obviously get the win," Curry said.
Klay Thompson continued to struggle behind the arc, going 1 for 5 and falling to 5 for 36 this season. He finished with 18 points and still hasn't had a 20-point outing this season.
D'Angelo Russell scored 25 points and Caris LeVert had 23 for the Nets, who made 20 3-pointers in 42 attempts and cut a 19-point deficit down to two.
"I think the 3-pointer got them back in the game and ended up we had to play a little bit and execute down the stretch, so it was a solid outing for us," Durant said.
Golden State has won four in a row since its lone loss and the previous three were all by at least 20 points. The franchise record is four straight 20-point victories, set by the San Francisco Warriors in 1966-67, and it appeared the Warriors were going to equal that.
Curry scored 16 points in the first quarter. The Nets hung close until midway through the second, and another 3 by Curry pushed it to 63-44 with 1:55 remaining in the half.
"The way the first half went we easily could have kind of folded and that's not what kind of guys we have in that locker room," Nets coach Kenny Atkinson said. "They're a resilient bunch and I thought they competed their tails off and it was good for the fans to see that we didn't just succumb to their talent or their aura so to speak."
Draymond Green had a season-high 13 assists.
Tip-ins
Warriors: G Shaun Livingston missed the game with a sore right foot. ... Thompson met before the game with 14 young players from the Caribbean who are part of the NBA's Jumpstart program. The players who got to visit NBA facilities and landmarks in New York were picked by Pelicans coach Alvin Gentry after they participated in an elite camp for Caribbean-based players age 17 and younger in Trinidad and Tobago.
Nets: Brooklyn has lost the last seven meetings. ... Russell made five 3s, while LeVert, Spencer Dinwiddie and Allen Crabbe all had four.
Sorry, coach
Steve Kerr said DeMarcus Cousins apologized for his ejection Friday against the Knicks.
Cousins was sitting on the bench in street clothes when he argued with referee Scott Foster, who gave him a technical foul and then threw him out of the game. Kerr said they had a good talk since and the volatile center understands things are different with the Warriors than his previous teams.
"That kind of stuff is not going to help us win a championship, it's not going to help his reputation and I think he understands that," Kerr said.
Somber speaking
A somber Kerr said the sad thing about the shooting that killed 11 in a Pittsburgh synagogue Saturday is that he's not surprised when it happens because there is so much gun violence and division in the US.
"We're broken right now and so nothing surprises us anymore, or nothing surprises me anymore," Kerr said. "Shootings at schools and churches, synagogues, malls, movie theaters, and we need our leaders to step up and unite the country with the appropriate words and the appropriate actions and we're not getting that right now. It's frustrating and I don't know what else to say."
Kerr said he planned to vote for all candidates who back gun control and safety. His father, Malcolm Kerr, a professor who served as president of the American University of Beirut, was shot and killed outside his office in the war-torn Lebanese capital in 1984.
https://sja.sportradar.com/w/Philstar Global/15331310/493100