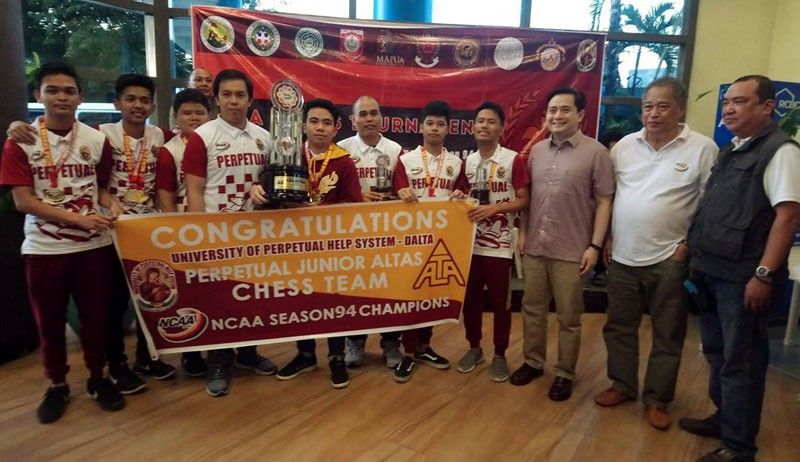 Perpetual Help's juniors chess team poses with NCAA president Anthony Tamayo (third from right), Mancom chair Frank Gusi (second from right) and tournament head Melchor Divina (extreme right) after winning a historic first NCAA juniors chess championship over the weekend at the Malayan School of Science Building in Manila.
Perpetual rules NCAA junior chess
(The Philippine Star) - October 1, 2018 - 12:00am
MANILA, Philippines — Perpetual Help downed Lyceum of the Philippines University, 3-1, to clinch a historic first juniors' championship in the 94th NCAA chess competition at the Malayan High School of Science Lobby in Otis, Manila over the weekend.
Carl Zirex Sato and Chris Pondoyo downed Jan Darryl Batula and Leonel Escote on boards two and three while Eric Labog, Jr. and John Anastacio drew with Earl Rhay Mantilla and Japeth Aaron Caresosa on boards one and four, respectively, to claim their very first crown.
The Junior Altas finally won it this time after coming close from ending its title drought a season ago when they eventually lost to the Letran Squires in the finals.
"We dedicate this victory to our school officials, sirs Antonio and Anthony Tamayo, the school, community and all the people who kept the faith," said Abelgas.
Capping the Junior Altas' dominance was Chris Pondoyo winning the board four gold medal and MVP plums.
Anastacio also took gold on board four while Abelgas was coach of the year.