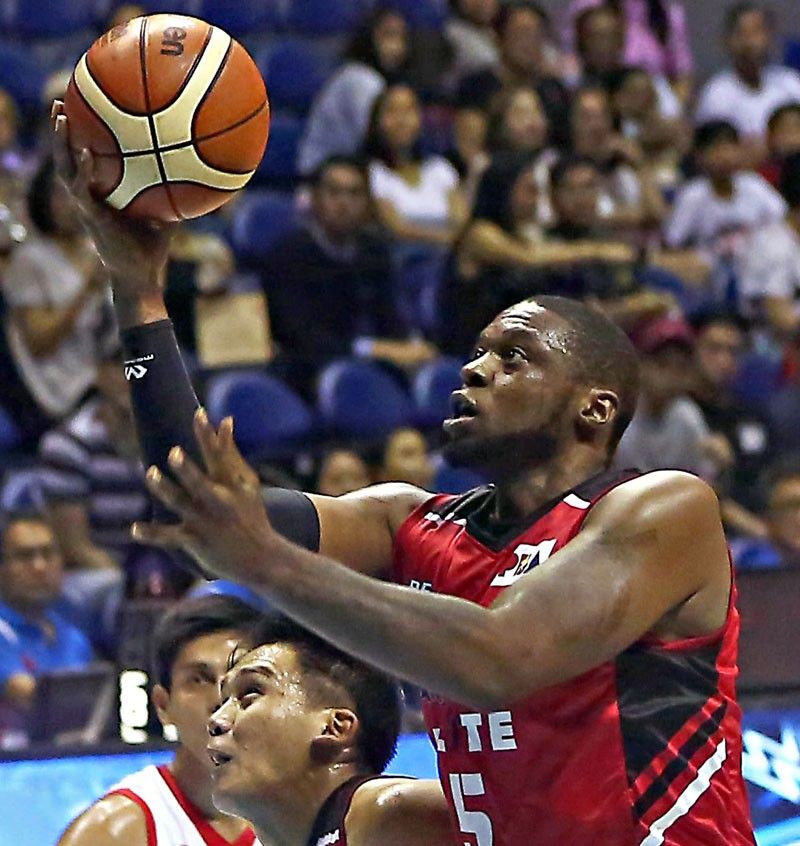 NBA vet powers Elite to record start
MANILA, Philippines — It took a battle-scarred survivor of seven knee surgeries, four on the right and three on the left, to lift Blackwater to an unprecedented 4-0 start in the PBA Governors Cup as Henry Walker said he's tired of skeptics doubting the team.
Walker, 30, is on his fifth tour of duty in the league, third with Blackwater after stops at Alaska and NLEX. A well-traveled import, he has also played in Venezuela, Croatia, Dominican Republic, Turkey and Uruguay. Walker said he would've liked to see action in China, where there's big money for imports, but at 6-4 1/2, players his size aren't in high demand. The Philippines is the best overseas destination for him and Croatia ranks next.
Last Friday, Walker delivered 39 points, seven rebounds and nine assists to fuel Blackwater's 124-118 extension win over Barangay Ginebra at the Smart Araneta Coliseum. He's now averaging 30.3 points, 13.3 rebounds, 5.3 assists, 3.5 steals and 44.1 minutes, shooting 53.2 percent from the floor, including 40 percent from beyond the arc. "I'm tired of people thinking we're pushovers," he said. "My goal is to bring Blackwater to the semis and once that happens, let's see how far we go. I'm all about winning. We're a different Blackwater now, we come to work every game. Coach Bong (Ramos) is a great teacher with a lot of attention to detail. For him, every little thing matters. At practice, he makes sure everyone understands what he wants and even shows how to go through screens, how to execute plays."
From his first PBA stint at Alaska in 2014, Walker said he has matured. "I've learned to pace myself," he said. "I sweat a lot. I'm drenched every game and I need to hydrate all the time. Throughout a game, I pick my spots. I want to be ready for the fourth quarter. I know down the stretch, the defense will want the ball out of my hands. I'm a people person, I try to bring out the best in my teammates. I trust them. Nards (Pinto), he's a game-changer potential. I always tell Mike (DiGregorio) to play fearless. Poy (Erram) just got signed to a max three-year extension. I encourage him to prove himself every game, to show he deserves what he deserves, to perform always at a high level."
Walker said from his years of service in the PBA, he knows what to expect. "The PBA game is physical, more physical than in the NBA, and the refs won't call everything so it's a challenge," he said. "I've matured as a man and as a player. I played five seasons in the NBA, defending guys like Kobe Bryant, Paul Pierce, Melo Anthony and Dwyane Wade. I've played alongside stars like Ray Allen, Kevin Garnett, Tracy McGrady and Chris Bosh. I've been coached by Doc Rivers, Mike D'Antoni and Erik Spoelstra. At New York, coach Mike's assistant Phil Weber taught me how to stay positive. He took it to a personal level. For coach Phil, it wasn't a business, he showed he cared for the players. That's what I share at Blackwater. Do I want to go back to the NBA? I don't dwell on it. If it's there, fine. As long as I do what I love, which is playing basketball, it doesn't matter where I play."
Walker said he has no nightmares of defending any player. "I'm confident in my skills," he said. "I just play my game. In the PBA, I go out there to defend the import and I expect him to defend me, too, not hide and defend some local. I've battled AZ (Arizona Reid) since 2014. He's a tough player but I don't fear anyone. Justin (Brownlee) is in a beautiful situation at Ginebra with guys like Greg Slaughter and Japeth Aguilar. Justin's a lion. With his skill level, he's a perfect fit for Ginebra and it's a match made in heaven. Expectations are high for Justin to deliver but he knows how to play under pressure."
Because of his humble beginnings, Walker said he's used to hard work. "I've learned to fight every day," he said. "I know tenacity. I can relate with a lot of Filipino players who know what a hard life is like. My mom worked at Wendy's, my dad was in and out of jail, my uncle was a pimp. I lost relatives and friends to gun violence. As a boy, I lived in a small house with about seven or eight kids and three to four adults. It wasn't easy growing up. What I have now, I earned the hard way."
In his NBA career, Walker bankrolled at least $2.25 Million playing 181 games for Boston, New York and Miami. His biggest salary was $854,000 in 2010-11 with the Knicks. He was Washington's second round pick in the 2008 NBA draft from Kansas State but never played with the Wizards. Walker said his seven knee operations, including two ACL procedures, took out 2 1/2 years of his playing career but he never stepped back. "I want to be known as one of the greatest imports in the PBA," he said. "I want to be remembered like Billy Ray Bates and Bobby Parks."