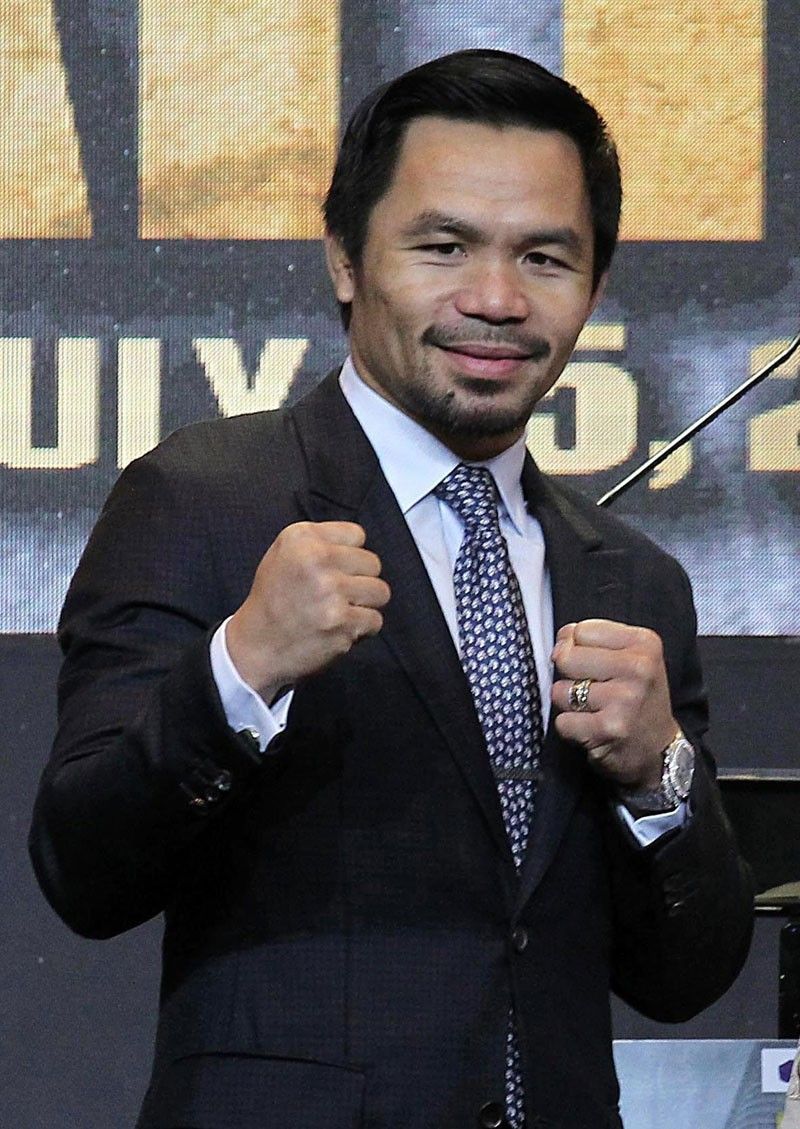 Manny Pacquiao sues Top Rank for TV rights
Abac Cordero
(The Philippine Star) - September 11, 2018 - 12:00am
MANILA, Philippines — Manny Pacquiao is mulling legal action against Top Rank Promotions and "several other individuals" over the alleged non-payment of his share in the broadcast rights of his July 15 title clash with Argentina's Lucas Matthysse in Kuala Lumpur.
"I am initiating legal proceedings against Top Rank and all other parties based on the non-payment and attempts to restrict my future fights," said Pacquiao.
"I have not received the US rights payment for my July 15 fight against Lucas Matthysse that was broadcast on ESPN+," he added.
In a press statement released late last night, Pacquiao said his legal team is asking ESPN+ (a video streaming subscription service in the United States), "to produce all documents needed to determine the net profits generated by Top Rank from distributing the (Matthysse) fight worldwide."
Pacquiao said Top Rank and several others "until now have failed to settle their financial obligations."
Arum's role in the Matthysse fight was limited to broadcasting the fight.
In the press statement, the Pacquiao camp alleged that under the contract with Top Rank, the latter can only air the fight "outside of the United States, Canada and Puerto Rico, and their respective territories and possessions."
Top Rank entered into a deal with ESPN+, and the Pacquiao-Matthysse fight was broadcast inside the United States, Canada and Puerto Rico "without Pacquiao's permission or consent."
The Pacquiao camp said ESPN+ did not have the right to broadcast the fight inside the United States, Canada and Puerto Rico.
Pacquiao, who won the WBA welterweight crown by knocking out Matthysse in the seventh round, said it was "a glaring violation of the terms of the contract."
The Pacquiao camp said it has sent a letter to Top Rank, which has allegedly "refused to recognize and address" the concern of the Filipino boxer and senator.
One of Pacquiao's lawyers claimed that instead of taking positive action to settle the issue, Top Rank "has taken positions that are inconsistent and sidestepped the legal implications of the situation."
Top Rank claimed that the contract was amended in early July 2018 although Pacquiao said the amendment was never signed and ratified.
Last Aug. 10, almost one month after the Matthysse fight, Arum and Top Rank president Todd duBoef flew to General Santos City to allegedly ask Pacquiao to "retroactively and without consideration sign the amendment."
Pacquiao, who became a Top Rank fighter in 2006, did not sign.
Top Rank recently told MP Promotions that they consider the contract void, and implied that the contract was intended to apply to broadcast via PPV (pay-per-view) only. The fight was never aired on pay-per-view.
Top Rank is now claiming that therefore, the eventual broadcast by ESPN+ inside the United States, Canada and Puerto Rico was not subject to any of the terms and conditions in the contract.