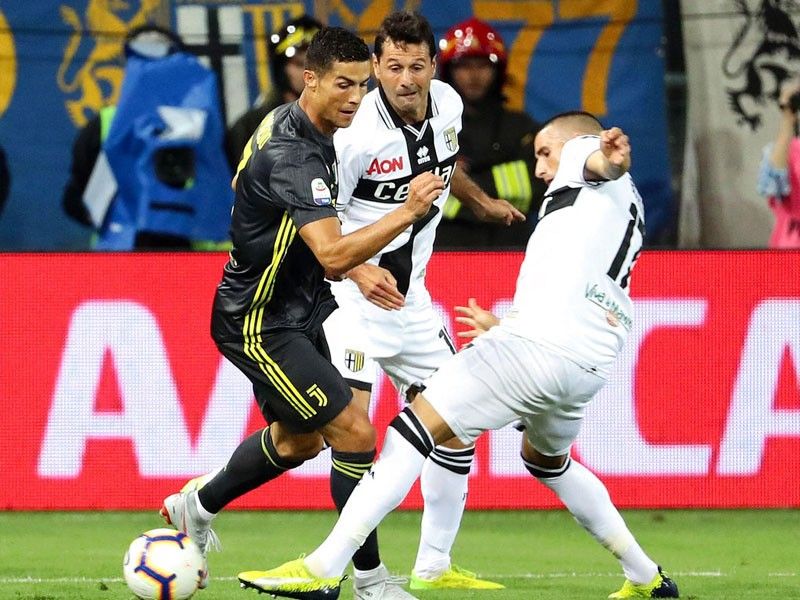 Juventus' Cristiano Ronaldo, left, is challenged by Parma's Antonino Barilla', right, and Massimo Gobbi during the Serie A soccer match between Parma and Juventus at the Tardini Stadium in Parma, Italy, Saturday, Sept. 1, 2018.
Elisabetta Baracchi/ANSA via AP
Ronaldo remains scoreless since joining Juventus
(Associated Press) - September 3, 2018 - 12:14pm
ROME — It's been a frustrating week for Cristiano Ronaldo.
First, he was edged out by former Real Madrid teammate Luka Modric for UEFA's player of the year award.
Then he again failed to score in Juventus' 2-1 win at Parma — extending his goal-less start with his new club to three matches.
"In Italian football there are different challenges," Juventus coach Massimiliano Allegri said after Saturday's match. "But he played a good game. It's one of those periods but I'm happy with what he's doing. The international break will help him to become sharper."
On Thursday, Ronaldo was the only nominee to skip the UEFA awards ceremony in Monaco.
"It's true, Ronaldo was disappointed not to receive the best player award," Allegri said. "He scored 15 goals in the Champions League and won the cup."
Ronaldo left Madrid in the offseason in a Serie A-record 112 million euro (then $132 million) transfer, but he is still figuring out how to score in a league known for its defensive qualities.
"I think he'll score at most 25-26 goals this season, but certainly fewer than he's accustomed to scoring in Spain," said retired Juventus and Italy defender Ciro Ferrara.
"He won't get more than 30 goals, in my view," Ferrara told Il Corriere di Torino. "It's different in Italy and I'm not saying that just because of the defenders we have here, but also the style of football. It's more tactical and even the smaller teams are more organized."
Ronaldo scored 26 goals in 27 Spanish league appearances last season. He also didn't score in his first three Liga matches a year ago, though he did score in other competitions for Madrid during that spell.
Still, the mere presence of Ronaldo and the constant danger he creates have helped Juventus win all three of its opening matches.
Ronaldo's 23 shots are the most of any Juventus player and he has played all 270 minutes.
The five-time Ballon d'Or winner will be able to rest and improve his physical condition during the international break, since he was not called up by Portugal for the Nations League.
"I spoke with him and we decided that in consideration of his adjustment process to Turin and his new squad he won't be with us during this period," Portugal coach Fernando Santos said.