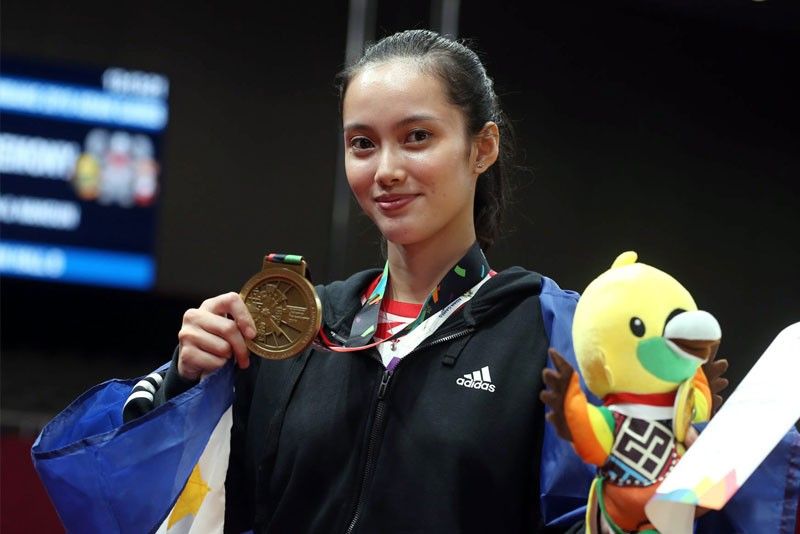 Agatha Wong shows her Asian Games bronze medal in the women's taijijian all-around final at the JIE Expo Hall in Jakarta.
Joey Mendoza
Wong-derful feat nets bronze
On eve of all-important Philippines-China game
JAKARTA – From a gold-medal showing in her SEA Games debut last year, wushu artist Agatha Chrystenzen Wong stepped into the Asian Games warfront and delivered a third bronze medal for the Philippines shortly before midday here yesterday.
Performing a pair of routines with good balance, flexibility and strength, Wong placed third to a highly favored hometown bet and a Hong Kong entry in women's Taijiquan and Taijijian combined event at the JIExpo Hall B at the heart of the Indonesian capital.
The 20-year-old College of St. Benilde student earned 19.36 points as against Lindswell Kwok's 19.5 and Uen Ying Juanita Mok's 19.42 in the event that drew 16 participants and watched no less by Indonesian President Joko "Jokowi" Widodo.
"I had no expectations. I just wanted to do my best and I think I did my best performance. So I think that's worth it for my sacrifices and my family who has always been there for me," said Wong, not expecting a podium finish in her first try in the continental games while battling slight injuries.
Then there's the tremendous pressure she faced as she placed only fifth in the first event, Taijijian.
She tried hard to impress in the next event Taijiquan and she did, enabling her to break into the Top Three and nail a third bronze medal for the Philippines after a pair of second runner-up finishes in taekwondo's poomsae event Sunday.
Through 9 p.m. yesterday, the Philippines was at No. 18 in the medal tally paced by China with a harvest of 15 gold, 10 silver and nine bronze medals, followed by Japan with 8-11-9, Korea 4-8-9 and host Indonesia 4-2-2.
Jasmine Alkhaldi finished seventh in the 100m freestyle won by Japan's Ikee Rikoko in a record time of 53.27 sec. Her time of 56.29, however, improved her clocking of 56.38 in the heats.
In softball, the Blu Girls followed up a 7-0 blanking of Hong Kong Sunday night with a 5-3 decision over South Korea. They were to return to the GBK field last night for a battle with fellow undefeated rival China.
Another encouraging result was Jayson Valdez establishing a new Philippine mark of 618.6 points in 10m Air Rifle for men amidst all those heartaches and heartbreaks suffered by Phl bets in various battlefronts here and in Palembang.
But even with his record-setting performance, Valdez was good for only 17th out of 44 participants in his event.
Worse was Amparo Acuna who placed 40th in the women's side with 603.7. It also went down as a Phl record as it was the first time women shot 60 rounds from 40.
Wong's bronze-medal feat was really good enough as there could be no way she could beat the hometown bet.
Kwok finally finished on top after a sixth-place performance in Guangzhou in 2010 and a second-place showing in Incheon in 2014.
For Wong, it was the result of hard work and the foot and ankle injuries she overcame.
"Nahirapan ako tumapak dahil sa tendinitis at hirap ako mag-bend because of my knees. But I feel really relieved because I'm done with my competition," Wong said.
Later in the day, Hagen Alexander Topacio wilted under pressure and finished sixth and last among six trap shooters who made it to the medal round.
He was barely one down on Indians Manavjit Singh Sandhu and Lakshay Lakshay, and Koreans Jiwon Eum and Daemyeong Ahn (with 119 each) through the five-round qualifying phase.
But after shooting an average of 23.6 in the elims, including two perfect rounds, Topacio struggled with only 18 in the finale.
Taiwanese Kunpi Yang topped Lakshay in the gold-medal match.
Darlene Mae Ampon outfought Nepalese Basyel Nepali Sangita, 20-17, to advance to the second round of women's -67kg in taekwondo, but was then badly outclassed and humiliated by Korean Kim Jandi, 0-29.
Rhezie Aragon (-53kg) and Jenar Torillos (-58kg) went down right in their opening matches.
Another wushu bet – Thornton Sayan – ranked only 12th in Nanquan event with 9.52 points. He competes in Nangun today to determine the final ranking.
The Filipino netters also suffered severe beating in singles as Jeson Patrombon succumbed to Chinese Wu Yibing, 2-6, 1-6, and AJ Lim bowed to Zhang Zhizhen, also of China, 4-6, 2-6, in the South Sumatra capital.
Marian Capadocia also lost to Japanese Hozumi Eri, 1-6, 3-6, in women's singles.
In fencing competition over at the Jakarta Convention Center, Maxine Esteban defeated Macau's Ho Peng, 15-9, but then dropped her Round of 16 match to Azuma Sera of Japan, 8-15, in women's foil.
Another Phl bet Samantha Catantan dropped a close 14-15 match to Hong Kong rival Liu Yan Wai.
Elien Rose Peres lifted 69 kg in the snatch and 85 in the clean and jerk for a total of 154 in the 48 kg class for women, and finished 11th and last after the 12th lifter, from Sri Lanka, did not finish.
Perez was 45 kg behind the winning 199 kg of 20-year-old Ri Sobng Gum of North Korea (87-112)). Silver went to Sri Wahyuni Agustiani of host Indonesia and the bronnze to Thunya Sukcharoen of Thailand (87-102).