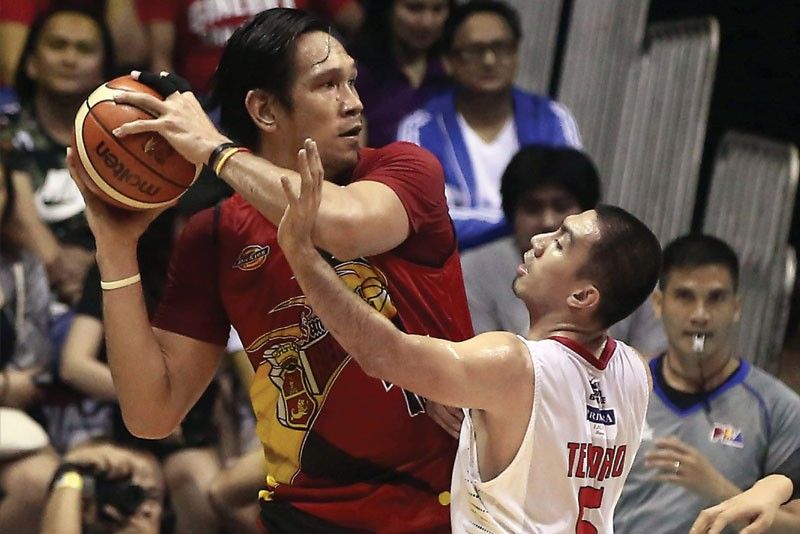 L. A. Tenorio puts up a token defense in a mismatch with San Miguel's JuneMar Fajardo.
Miguel de Guzman
L. A. Tenorio braces for San Miguel comeback
MANILA, Philippines — Barangay Ginebra guard L. A. Tenorio said he expects San Miguel Beer to mount a furious comeback and keep its Grand Slam hopes alive in Game 6 of the PBA Commissioner's Cup Finals at the MOA Arena tonight.
Ginebra is a win away from capturing coach Tim Cone's 21st title but the defending champion Beermen, who hold a 4-1 advantage over the Barangay in Finals history, aren't likely to roll over and die. San Miguel lost three in a row to start the conference and if Ginebra prevails tonight, it will mean ending the Beermen's bid on the same streak.
Tenorio isn't holding his breath for a closure tonight even as he's hoping Ginebra will clinch. "Honestly, in a normal series, closing out is really hard already but closing out a series against San Miguel, I think it's double or triple harder for me," he said. "We really need to double or triple our focus and effort in Game 6. We expect San Miguel to come out really strong."
Tenorio, who played for San Miguel in losing to Ginebra in six games in the 2006-07 Philippine Cup and has now won three championships under Cone, said no less than a total team effort is the key to turning back the Beermen. "For us to win the series and close it out in Game 6, everyone should contribute not only rely on (Justin) Brownlee," he said. "We locals should help Brownlee by executing our gameplan."
In Game 5 last Sunday, Brownlee was at his worst and opposing San Miguel import Renaldo Balkman was at his best but Ginebra managed to win, 87-83, with Scottie Thompson scoring 20 points, Tenorio 15 and Greg Slaughter 13. Brownlee struggled with 18 points while Balkman erupted for 34. Ginebra controlled the tempo from the start and turned it into a low-scoring, grind-it-out battle of attrition. San Miguel played into Ginebra's hand by orienting its offense almost exclusively to Balkman and JuneMar Fajardo who combined for 46 of the team's 87 attempts. When a team has two players taking over 50 percent of its shots, the predictability makes it easier for the defensive team to clamp down. With the backcourt deferring to Balkman and Fajardo, Alex Cabagnot and Chris Ross scored only a combined eight points, down from their Finals average of 22.3.
Tenorio said the adjustment of Ross defending Brownlee in Game 6 wasn't a surprise. "We were actually expecting that from the start of the Finals," he said. "But Game 5 was the first time Ross guarded Brownlee. And Brownlee had a hard time with him so I think they'll stick with that matchup. Wala naman problema sa matchup kasi we have gameplans naman every time there are matchup changes."
Tenorio's teammate Greg Slaughter said squaring off with Fajardo is like old times. "It feels like the old days when JuneMar and I played in our hometown Cebu," he said. "Missing Japeth (Aguilar) is huge for us but he's still been able to impact the game. It's tempting to think how different it would be if he were 100 percent but we have to win with what we have now. I'm only thinking one game at a time and the next game is tonight."
Aguilar has been hobbled by a left Achilles tendon strain and is averaging 4.6 points, 3.0 rebounds and 13.3 minutes in the Finals. He showed signs of recovery in the last two games, scoring eight in each, and not coincidentally, Ginebra won both outings.
Slaughter, who's gunning for his second career championship, said the only way Ginebra can clinch is to play together. "We just see ourselves as Ginebra and it doesn't matter who gets it done because we know the only way we're going to do this is together," he said. "We have the same goal and that's working towards winning this championship. The stakes are high and the pressure is on but the greater the pressure, the greater the opportunity there is."