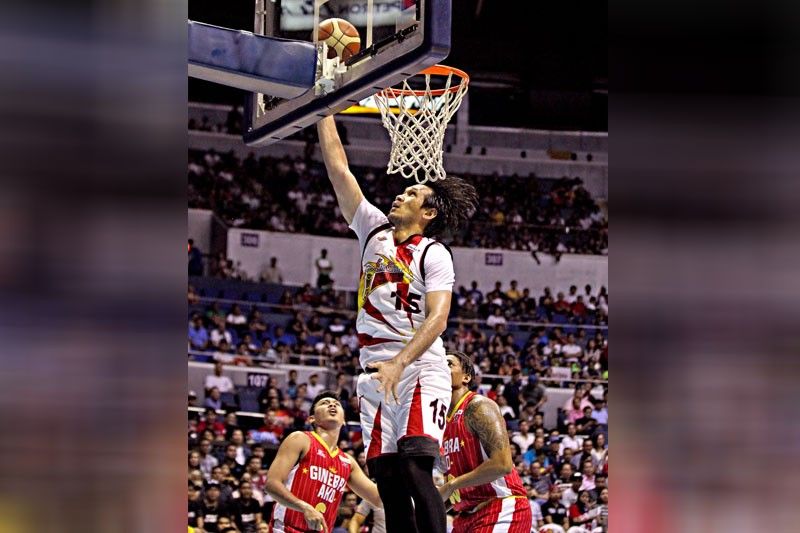 San Miguel Beer's June Mar Fajardo lays it in nice and easy against Scottie Thompson and Joe Devance of Ginebra Gin Kings in Wednesday's Game 3 won by SMB, 132-94.
Jun Mendoza
(The Philippine Star) - August 3, 2018 - 12:00am
After a blowout, rout
MANILA, Philippines — Titleholder San Miguel Beer, with its back-to-back smashing triumphs, has re-established itself as the overwhelming favorite versus Barangay Ginebra going to Game Four of the PBA Commissioner's Cup Finals tonight at the Smart Araneta Coliseum.
But as overpowering as they were in the last two games, the Beermen remain wary of their chances of going all the way, opting instead to keep a realistic assessment of the best-of-seven series.
Despite their combined 63-point conquest of the Kings in Games Two and Three, the Beermen are barely up at 2-1 and still need to win two games to retain the second conference crown.
"It's just one game. We still have a long way to go. Overconfidence should not set in," said San Miguel coach Leo Austria ahead of Game Four set at 7 p.m. after a brief ceremony to fete the Best Player of the Conference and the Best Import.
San Miguel behemoth June Mar Fajardo is a cinch to win a second BPC plum this season that could put the lock on his quest for a record fifth MVP crown.
Meanwhile, Justin Brownlee and Renaldo Balkman are in a tight battle for the coveted Best Import award.
Brownlee and Balkman have been in a fierce showdown, but Fajardo and the other SMB core players proved too much for their Ginebra counterparts in their 134-109 rout Sunday and in their 132-94 demolition job Wednesday.
Devastated, Ginebra coach Tim Cone issued a short statement to the sportswriters as he left the Big Dome Wednesday. "They're too good for us," he said.
But a never-say-die team as they are, the Kings stressed they are not about to raise the white flag yet.
"SMB tore our hearts and demoralized us. A truly great performance by them on both sides of the court. We were simply embarrassed. I was embarrassed. The bottom line, though, we still have to remember that it's a seven-game series, and the score is only 2-1," said Cone.
The challenge for the Kings is how to keep up with the Beermen with the great form they're enjoying right now.
"Needless to say, however, we need to find a way to play a whole lot better to reach their level," said Cone.
The Beermen have just become the first team in 28 years to score at least 132 points in back-to-back regulation games in PBA finals, according to PBA stats chief Fidel Mangonon.
On Wednesday, with three players producing at least 22 points and three others adding at least 11 markers, San Miguel equaled the biggest winning margin in PBA finals, matching Alaska Milk's 38-point smothering of San Miguel, 99-61, in Game Six of the 1998 Philippine Cup finale.
Austria insists they just got a 2-1 series lead, but he's hopeful to draw boost and energy from those big romps.
"It's just one game (lead) but we have the advantage going to the next game. In this condition, it's hard to be on the trail. We're on top and I hope these blowouts could be a morale-booster or confidence-builder for us," said Austria.
The Beermen were simply overpowering in the last two games.