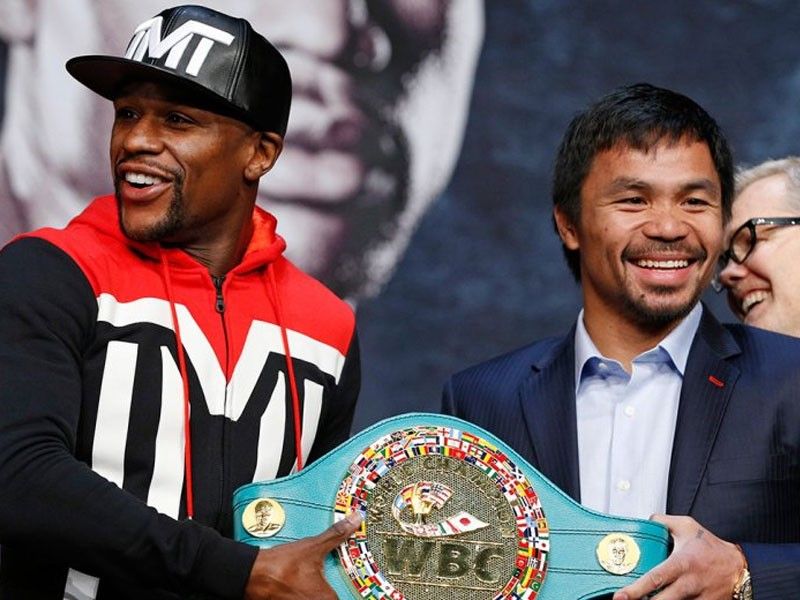 Floyd Mayweather Jr. and Manny Pacquiao
AP
Mayweather open to promote Pacquiao
MANILA, Philippines – Floyd Mayweather Jr. may not fight Manny Pacquiao ever again, but he's willing to be involved in the Filipino icon's future bouts — as a promoter.
In an interview with Ben Thompson of fighthype.com, the retired boxer said he will call Pacquiao to explore the possibility.
"Actually, I'm gonna get on the phone with Pacquiao after I get off this call and get in touch. And we can put him in position and get him some...[there's] a lot of good competition out there that he could fight," said Mayweather, who outpointed Pacquiao in their financially massive showdown in May 2015.
Pacquiao had longed for another crack at Mayweather, but the latter wanted none of it. Mayweather fought twice more — beating Andre Berto and knocking out Conor McGregor — then retired again.
Mayweather is now working full time as lead promoter of his Mayweather Promotions.
The fighting senator, for his part, has since moved on, and recently re-entered the welterweight picture with an impressive seventh-round stoppage of Lucas Matthysse for his first knockout win in nearly a decade.
After taking care of Matthysse, Pacquiao said that while he respects Mayweather's decision to stay retired, he is open to a rematch if the American decides to come back.
But Mayweather still would not flinch.
"I don't have anything against Manny Pacquiao. Of course he's supposed to call the Mayweather name. I'm one of the bigger names in the sport of all time, if not the biggest name. When you call the Mayweather name out, I mean, you speaking dollars," he continued.
"Pacquiao's a future Hall of Famer. Hell of a champion, hell of a guy. But the best man won. And I was the best man," said Mayweather.
After splitting with longtime partner Top Rank Inc., Pacquiao recently declared he's now his own promoter, with the Matthysse fight being staged by his MP Promotions in partnership with Oscar Dela Hoya's Golden Boy Promotions.
I, through MP Promotions, will be handling any and all negotiations for my next fight. Nobody is authorized to speak on my behalf. You know my number, call me. pic.twitter.com/b5H1BmM8CH

— Manny Pacquiao (@mannypacquiao) July 20, 2018
He could end up working with Mayweather someday.
"I wouldn't mind making Pacquiao-Mikey Garcia," said Mayweather, referring to the undefeated WBC and IBF lightweight champion (39-0, with 30 KOs) whose camp reportedly has Pacquiao in their crosshairs.