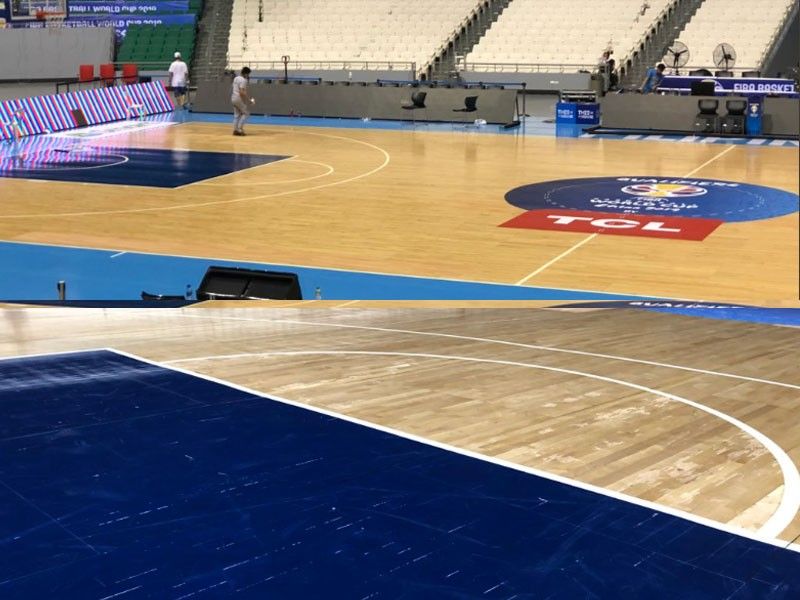 The PLDT decals on the free throw line at the Philippine Arena in Bulacan have been removed.
Philstar.com/Denison Rey Dalupang
FIBA probe sought on removal of PLDT decals at Philippine Arena by Aussie team
MANILA, Philippines – The Samahang Basketbol ng Pilipinas on Sunday conveyed to FIBA a very diplomatic but strong message about the unilateral and uncalled for tampering of the stickers on the hard court of the Philippine Arena by the Australian national team.
The SBP, through its legal counsel Atty. Aga Francisco, called for FIBA to investigate the matter during the technical meeting for Monday's World Cup Asian qualifier between the Philippines and Australia.
During the closed-door practice of the Australian team from 2:30 p.m. to 4:30 p.m. Sunday, members of the squad forcibly removed the stickers of PLDT — a major sponsor — from the hard court of the Philippine Arena, the venue of Monday's game, without conferring with FIBA or the SBP Local Organizing Committee (LOC).
As it was a closed-door practice, no member of FIBA or the LOC was present to prevent the removal of the stickers, which permanently damaged the floor of the court.
According to the Australian team, they were concerned about the safety of their players, citing a slippery surface.
The LOC, through SBP Deputy Executive Director Bernie Atienza, acknowledged the right of the visiting team to complain, but he said the squad didn't have the right to remove anything as all the stickering of the floor has been approved by FIBA.
The decals were approved by FIBA's branding manager who was present for their placement.
Francisco added that this is no mere small incident but could be "international in nature" as the owners and operators of the Philippine Arena could possibly file a criminal action of malicious damage to property through pre-meditation and in conspiracy with each other.
SBP chairman Emeritus and chief Gilas Pilipinas backer Manny Pangilinan, also head of the PLDT Group, took to Twitter to decry the act.
Aussie team ripping our/Fiba logos on the court of Phil Arena w/o asking permission. We will not back down. Those stickers go in. Regardless. pic.twitter.com/LMwyiBNtG4

— Manny V. Pangilinan (@iamMVP) July 1, 2018
Meanwhile, the Australians, through their representatives to the technical meeting, admitted fault and deeply apologized for the incident.
Francisco, however, urged FIBA to act decisively on the incident.
"FIBA should take action in order that the owners will be appeased so they will not file action," said Francisco
SBP is awaiting FIBA's response on the matter.