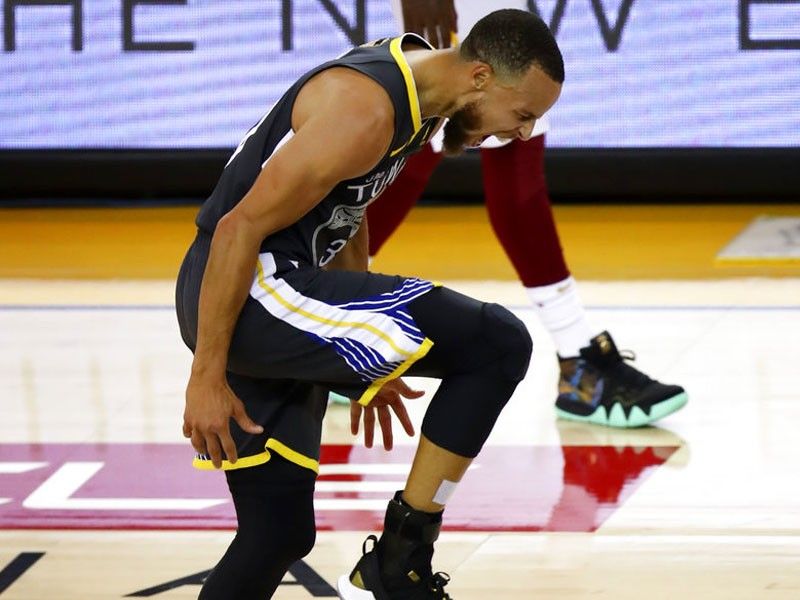 Golden State Warriors guard Stephen Curry celebrates after scoring against the Cleveland Cavaliers during the first half of Game 2 of basketball's NBA Finals in Oakland, Calif., Sunday, June 3, 2018.
AP/Ben Margot
Curry sizzles from outside as Warriors rout Cavs to go 2-0
OAKLAND, Calif. — Stephen Curry hit an NBA Finals-record nine 3-pointers and scored 33 points, leading the Golden State Warriors to a 122-103 win over the Cleveland Cavaliers on Sunday night (Monday Manila time) for a 2-0 lead.
Kevin Durant found his steady stroke to score 26 points to go with nine rebounds and seven assists while also handling a load of the defensive assignment against LeBron James. Klay Thompson added 20 points playing on a tender left leg to put the defending champions two victories from a repeat title they have talked about since the season began last fall.
https://sja.sportradar.com/w/Philstar Global/14624084/403100
James followed up his 51-point performance in Game One with 29 points, 13 assists and nine rebounds in a far tamer finals sequel minus the utter craziness of a drama-packed opener three days prior.
Game Three is Wednesday night in Cleveland (Thursday Manila time).
Kevin Love had 22 points and 10 boards for the cold-shooting Cavs, who will now try to gain some momentum back home.
Curry had the shot of the night with 7:54 to play, making an off-balance swish from several feet behind the 3-point arc over Love as the shot clock wound down, then backpedaled in pure joy. Curry fell into the first row of fans with a baseline 3 again over Love and four-point play at the 5:44 mark of the fourth.
James pointed with both hands after his 3 with 11:04 remaining got his team within seven, before Curry answered from deep the next two trips down the floor. Curry squatted low to admire his shot as it went in at one point and galloped back in joy after he hit two deep 3s late in the first half.
They had a tense moment in the third, too.
James became irate at the officials for a no-call on Curry, who ran beneath the Cavs star and didn't let him land with 3:54 remaining in the quarter as James caught Love's long pass and went out of bounds. Cleveland coach Tyronn Lue was hit with a technical for arguing it.
JaVale McGee scored 12 points, making all six of his shots in his first career NBA Finals start as Warriors coach Steve Kerr made a lineup switch that proved spot on.
The typically efficient Durant connected on 10 of 14 shots after going just 8 for 22 — 1 of 7 on 3s — in the opener but still scoring 26 points.
Last year's NBA Finals MVP made his initial five field goals Sunday (Monday Manila time), driving right at James on offense and doing all he could to fluster him on defense.
James hit a 3 over Durant's outstretched arm midway through the third, then Tristan Thompson's basket the next possession pulled the Cavs within 72-66. But they couldn't contain Curry and the rest of the Warriors for extended stretches.
The Warriors vowed to make it harder for James to generate good looks after he shot 19 for 32 in the series opener, and James went 12:06 of game time between made baskets.
James went 10 for 20, showing few signs his shot was altered by a bloodshot left eye. He had been taking antibiotics and using drops after being poked in the eye by Draymond Green in the first half Thursday (Friday Manila time).
The Warriors earned a wacky 124-114 overtime win in Game One — featuring J.R. Smith's blunder when he grabbed an offensive rebound in the waning moments of regulation and dribbled back toward halfcourt rather than shooting for the victory, and an overturned charge call against James.
Smith received rousing cheers from the home fans during pregame introductions and "M-V-P!" chants greeted him when he went to the foul line.
Thompson played after bruising his lower left leg when Smith slid into him in the first quarter Thursday. The Warriors All-Star has never missed a postseason game.
Kerr went with 7-foot big man McGee to start in place of Kevon Looney — McGee's 10th career start in the postseason.
McGee scored the first four points of the game as Golden State made its initial seven shots and 10 of 11. That included Thompson's steal from James at the 3-point line leading to Green's dunk moments later and a Cleveland timeout down 15-6 at the 8:14 mark.
McGee's five baskets through 26 minutes matched James' total.
Another key role player, Shaun Livingston, made his five field-goal tries for 10 points to give Golden State a lift in the first half after making all four of his shots Monday.
Tip-ins
Cavaliers: James' first-half line: 15 points, eight assists, seven rebounds, two steals. His first points — the first for Cleveland — came on a goaltend by McGee. ... After holding a 19-4 edge on the offensive glass in Game 1, the Cavs were 15-7 on Sunday.
Warriors: Thompson played in his franchise-record 100th postseason game. He also became the sixth player to ever make 300 3s in the postseason, joining Curry as the Warriors to reach the feat. ... The Warriors were 13 of 15 from inside the arc in the opening quarter. They shot 59.5 percent in the first half despite going 6 of 19 on 3s. They finished 15 for 36 from long range. ... Golden State is 13-3 in postseason Game 2s dating to the 2015 title run.
Iguodala still out
Warriors forward Andre Iguodala missed his sixth straight postseason game nursing a bone bruise in his left knee.
Kerr remains optimistic the 2015 NBA Finals MVP will play at some point in the series.
"They're damn good with him and they're damn good without him," James said. "No matter offensively or defensively. Listen they've had a two-time MVP sit out playoff games and they've won, all right. They're good. They're great, actually."
https://sja.sportradar.com/w/Philstar Global/14624084/493100