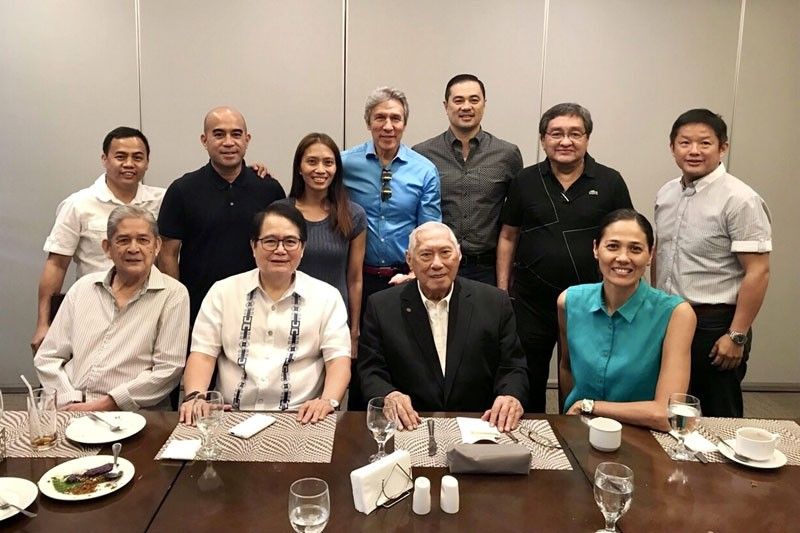 Philippine Olympic Committee president Ricky Vargas (seated, second from left) poses with former Olympians during a luncheon meeting of the Philippine Olympians Association at the Manila Golf Club yesterday. They are (seated, from left) Ramon Aldea (archery), Olympians president Rafael Hechanova (basketball) and Akiko Thomson- Guevara (swimming). Standing from left are Roel Velasco (boxing), Stephen Fernandez (taekwondo), Jenny Guerrero (swimming), former Sen. Freddie Webb (basketball), Rep. Monsour del Rosario (taekwondo), POC communications director and ABAP sec-gen Ed Picson and Jethro Dionisio (shooting).
Metro Manila venues hold top SEAG events
MANILA, Philippines — While the New Clark City in Capas, Tarlac will serve as main hub of the 2019 SEA Games, the sports that are still expected to bring in the crowd will be played in Metro Manila.
Basketball, for one, will be played in the capital, at the Mall of Asia Arena, with some matches also scheduled at the nearby Cuneta Astrodome.
Volleyball, which is also expected to draw the fans, will be played at the Smart Araneta Coliseum. This early, the interest is high that the Philippines will figure in the medal race of women's volleyball.
Ramon Suzara, executive director of the Philippine SEA Games Organizing Committee (PHISGOC), also reported that boxing, the country's main source of pride in international competitions, will be staged at the SMEX near Mall of Asia, along with gymnastics, muay and wushu.
Equestrian and polo, the rich sport, will be played at the Manila Polo Club, together with squash while bowling will be at the Starmall in Edsa, and billiards and snooker at the Makati Cinema Square.
"We have permanent venues and others to be refurbished in Metro Manila," said Suzara at the close of the two-day SEA Games Federation meeting presided by Philippine Olympic Committee chief Ricky Vargas at the Bonifacio Global City.
"The main hub," said Suzara, "will still be the Clark New City."
The New Clark City, a 9,000-hectare modern metropolis, is under construction, and Suzara said based on the presentation, the SEA Games venues will be ready by June next year.
The main stadium for athletics and a new center for aquatics are being built at the New Clark City, where the opening and closing ceremonies for next year's SEA Games will be held.
The mandatory sports of athletics and aquatics will be at the New Clark City, along with baseball and softball, because of the existing field in the area.
Subic will play host to the water sports like sailing and windsurfing, triathlon and duathlon, and sepak takraw.
Vargas reported that an initial list of 30 sports were approved by the SEA Games Federation, with perhaps a dozen more to be included on or before June 30 for final approval in November.