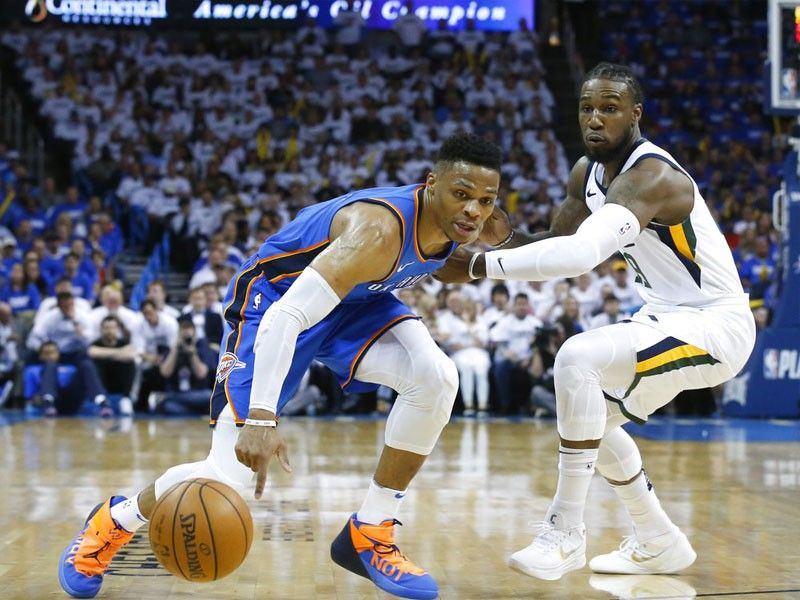 Oklahoma City Thunder guard Russell Westbrook, left, reaches for the ball in front of Utah Jazz forward Jae Crowder during the first half of Game 5 of an NBA basketball first-round playoff series in Oklahoma City, Wednesday, April 25, 2018.
AP/Sue Ogrocki
Westbrook erupts for 45 points as Thunder stay alive
Cliff Brunt
(Associated Press) - April 26, 2018 - 12:50pm
OKLAHOMA CITY — Russell Westbrook scored 45 points and the Oklahoma City Thunder rallied from 25 points down in the second half to fight off elimination and beat the Utah Jazz, 107-99, on Wednesday night (Thursday Manila time).
Westbrook also had 15 rebounds and seven assists. Paul George added 34 points and eight rebounds.
Utah takes a 3-2 lead back to Salt Lake City for Game Six on Friday (Saturday Manila time).
https://sja.sportradar.com/w/Philstar Global/14381204/313100
Oklahoma City took advantage after Utah's post players, Rudy Gobert and Derrick Favors, got into foul trouble. Both finished with five fouls, and Oklahoma City was able to get to the basket consistently for the first time in the series.
Jae Crowder had a career playoff-high 27 points for Utah. Donovan Mitchell scored 23 points, and Joe Ingles added 16.
Utah opened the second half on an 8-1 run to go up 64-42, and Crowder's 3-pointer made it 71-46 with 8:34 left in the third quarter.
Westbrook hit back-to-back 3-pointers, then made a layup with 5:07 left in the third quarter to cut Utah's lead to 73-60. Gobert picked up his fifth foul with 3:46 left in the third quarter. Westbrook's 3-pointer tied the game at 78 heading into the fourth quarter. Westbrook scored 20 points in the third quarter.
Westbrook scored immediately at the start of the fourth to finally put the Thunder in front. Back-to-back threes by Westbrook and Alex Abrines put Oklahoma City up 96-91, and a jumper by Westbrook with 1:24 left put Oklahoma City up 107-99.