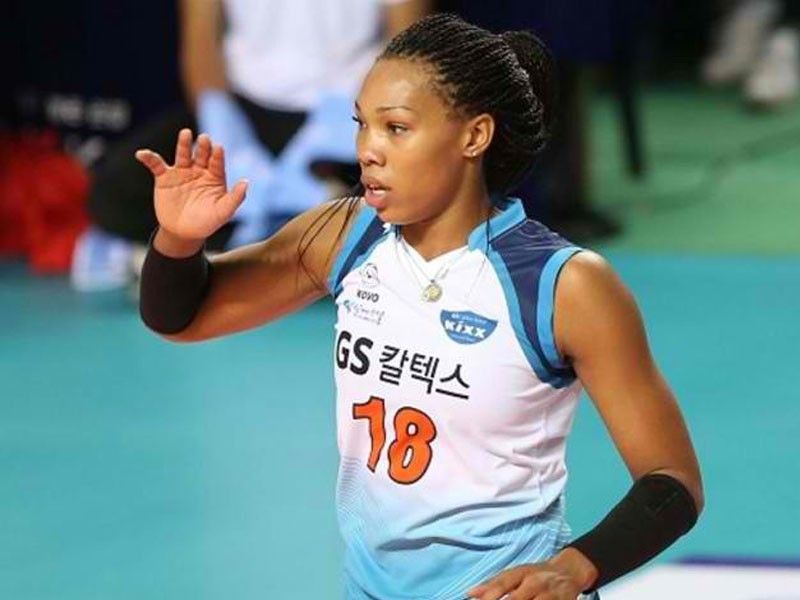 Katherine Bell is known for her versatility as she can play the open, opposite and middle blocker positions.
worldofvolley.com
Petron replaces Hurley with Bell for semis bid
MANILA, Philippines – In a bid to boost its championship drive, Petron made a gamble when it replaced import Hillary Hurley with a seasoned international campaigner in Katherine Bell in the ongoing Chooks to Go-Philippine Superliga Grand Prix.
Head coach Shaq Delos Santos confirmed the acquisition, saying that Hurley's recurring ankle injury prompted them to tap a new import as they march into Game One of their best-of-three semifinals series against Cocolife on Tuesday at the Filoil Flying V Centre in San Juan.
Based on her credentials, Bell appears to be worth the gamble.
The energetic 6-foot-1 former University of Texas star is known for her versatility as she can play the open, opposite and middle blocker positions.
She also saw action for the Carolina Gigantes in Puerto Rico, GS Caltex Seoul in South Korea and Manisa BB SK in Turkey.
Her previous assignment for Turkish side Balikesir came to an end two weeks before she got a call that the Blaze Spikers want her to replace Hurley, a beloved and very popular player in the country's most prestigious women's club league.
"It's good that she was available," said Delos Santos, confirming reports that former import Alaina Bergsma was the first on their radar until a conflict in schedule doomed their negotiation.
"Bell is a hardworking player who can play multiple positions. She is a good communicator who loves to push and motivate her teammates. I'm hoping that she can help us reach our ultimate goal, which is to win a title."
Bell started training Wednesday and had her baptism of fire when the Blaze Spikers clashed with Pocari Sweat in a friendly match Thursday night.
Delos Santos said he likes what he saw.
"So far, so good," he said.
"She's getting along pretty well with Lindsay and the locals and I expect them to play fluidly as a team in Game One on Tuesday. I think we just need a little polishing on our set plays and defensive patterns and we're good to go."
But having a new import to support team captain Lindsay Stalzer and mainstays Frances Molina, Rhea Dimaculangan, Aiza Maizo-Pontillas, Mika Reyes, Remy Palma and Japanese libero Yuri Fukuda doesn't equate to winning a title.
Delos Santos said it's still a long way to go as the Asset Managers are tipped to be in fighting form, thanks to the superb performance of Serbian imports Sara Klisura and Marta Drpa.
"Their new import (Drpa) is one of the smartest players I ever saw," said Delos Santos referring to the 6-foot-3 FIVB World Grand Prix veteran who replaced American Taylor Milton couple of weeks ago.
"Her (international) experience is one of a kind and I know she will be at her best when we face them in the semifinals. That's why we have to work hard and prepare for Cocolife. This team is hungry. We have to show and prove to them that we want it more."
Since Bergsma and Brazilian setter Erica Adachi served as their reinforcement in 2014, the Blaze Spikers have yet to win a Grand Prix title.
They had a bridesmaid finish in 2015 with Rupia Inck and Adachi as imports followed by another heartbreaker in 2016 with Stephanie Niemer and Serena Warner as guest players.
Last year was even more devastating.
With Stalzer and Hurley at the firing end, the Blaze Spikers had a massive collapse in Game Two of their best-of-three finals series, paving the way for Maria Jose Perez, Kennedy Bryan and F2 Logistics to steal the thunder in Game Three.
This time, Petron is eager to score a payback.
"Winning the title isn't easy," Delos Santos said.
"I hope our gamble would pay off."