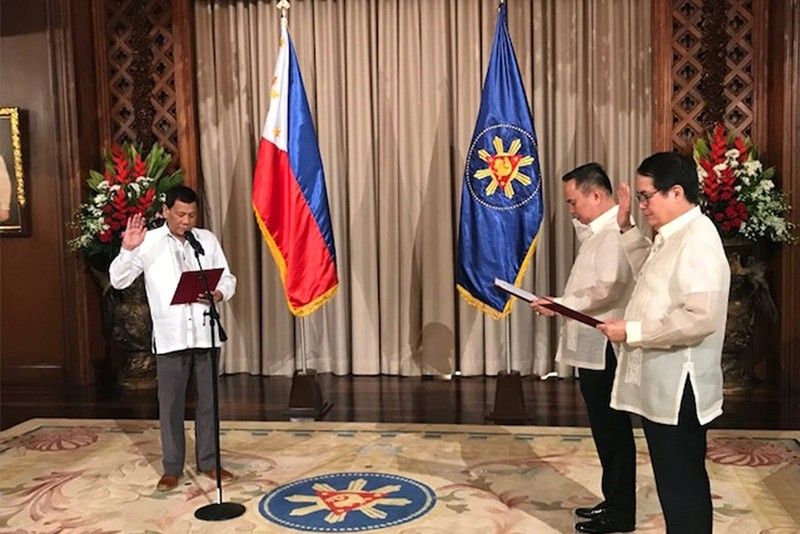 President Duterte swears into office Philippine Olympic Committee president Ricky Vargas (right) and POC chairman Bambol Tolentino yesterday at Malacañang Palace. The POC will be holding its first board meeting today at the Philsports Arena with Vargas expected to name the POC secretary-general and deputy sec-gen. POC Media Bureau
President Duterte to Ricky Vargas: Good luck
Abac Cordero
(The Philippine Star) - March 6, 2018 - 12:00am
MANILA, Philippines — Newly elected Philippine Olympic Committee (POC) president Ricky Vargas and chairman Abraham Tolentino took their oaths of office yesterday afternoon before President Duterte in Malacañang.
Vargas and Tolentino, a congressman from Tagaytay, waited for more than an hour for the President to show up at the Reception Hall.
"No problem. What's one hour when I waited years for this," Vargas told The STAR after the very brief ceremony.
The new POC chief is the grandson of Jorge Vargas, who headed the Philippine Amateur Athletic Federation (PAAF), which later on became the POC, in the early 1900s, and who became the first Filipino member of the International Olympic Committee (IOC).
"After taking my oath, the words 'So, help me, God' became more meaningful because of all the challenges we have to face," said Vargas.
"But it went well. The President told me, 'Good luck and congratulations,' and I greeted him. There was very little talk. He was in a hurry because of a Cabinet meeting," Vargas said.
Joining Vargas and Tolentino in Malacañang were Association of Boxing Alliances of the Philippines (ABAP) vice president Patrick Gregorio and secretary-general Ed Picson.
Vargas said he's not used to taking an oath because "we in the corporate world don't take an oath of office, except maybe when I was in the Jaycees," he said.
Vargas said work has begun in the POC, and today it will hold its first executive board meeting under its new president.
"We will have our first board meeting tomorrow (today). It will be short. I will announce my recommendation for sec-gen and deputy sec-gen," said Vargas, referring to Gregorio and Karen Caballero of sepak takraw, respectively.
Vargas said he will present his recommendation to the board, along with the creation of a committee on arbitration and disputes.
"We need to settle the disputes on the NSAs (national sports association) so we can focus on the athletes. Magulo eh (It's messy). Maybe by tomorrow I can finalize the names of those who will head the committees," he said.
Vargas said it's not the first time he met the President.
"I met him when he was mayor of Davao. And then when we had a boxing tournament there. He even hosted lunch for us and I reminded him of that," he said.