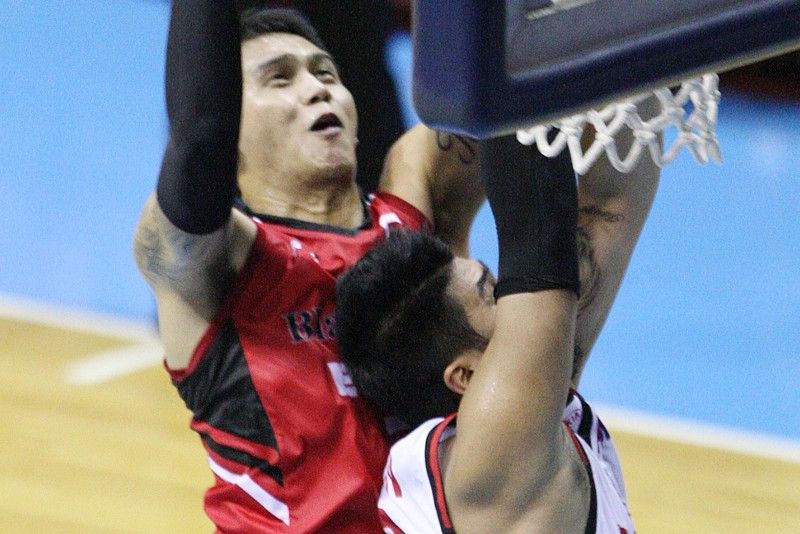 Blackwater Center Poy Erram. Photo by Joey Mendoza
Elite rip Kia, keep playoff bid alive
MANILA, Philippines — Blackwater started its three-game closing grind in the eliminations with an emphatic 95-76 victory over Kia that kept the Elite in strong contention in the playoff race in the PBA Philippine Cup at the Smart Araneta Coliseum last night.
Guard Mike Digregorio, center Poy Erram and gunner Allein Maliksi took charge as the Elite pulled off the big win they hoped could motivate them in their next two games against the NLEX Road Warriors tomorrow and versus the Phoenix Fuel Masters Wednesday.
"We're concerned playing back-to-back-to-back games in six days. Hopefully, with our decisive win tonight, we can go on and move to the next level in terms of confidence, maturity and all the other positive things that could add to us winning the next game," said Blackwater coach Leo Isaac.
Magnolia broke GlobalPort's pressing defense in the second half to key a big turnaround from an early 13-point deficit en route to a 96-81 win later in the night.
Rome dela Rosa, with 18 points, set a career best output for the third time in their last four games and five other Magnolia players delivered double-digit outputs as the Hotshots placed themselves in a good position to claim a twice-to-beat incentive in the quarterfinals with a 7-3 slate.
The Hotshots play their last game in the elims against the Meralco Bolts in Xavier U Gym in Cagayan de Oro on Feb. 24.
"We're winless in our last four games on the road. Hopefully, we end the losing streak to solidify our chance for a Top Two finish," said Magnolia coach Chito Victolero.
"If we manage the playing time of our main players and if our reserves contribute, then we will have fresh legs against NLEX and Phoenix," Isaac added.
On the fringes of the Top Eight with a 4-5 win-loss slate, the Elite meet the Road Warriors (5-4) and the Fuel Masters (4-5) in virtual playoff battles.
"Six wins give you an outright playoff entry. We want to avoid complications, and I think we still have a chance to do that on our own," Isaac said.
Meanwhile, San Miguel Beer (6-2) and Alaska Milk (6-3) pursue their Top Two aspirations as they slug it out in a crucial Petron Blaze road game in Batangas City at 5 p.m. tonight.
Their drive was stalled the last time with the Beermen dropping a humbling 96-106 loss to the Blackwater Elite and the Aces seeing the end of their six-game winning streak in a defeat at the hands of the NLEX Road Warriors.