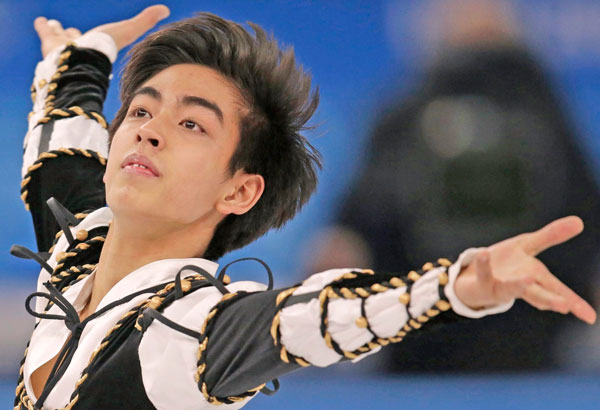 Martinez, 21, was a last-minute choice to join the competition. He failed to qualify out of the 2017 World Championships in Helsinki and the 2017 Nebelhorn Trophy in Obertsdorf, Germany. File
Martinez adjusts music for Olympics
MANILA, Philippines — Michael Martinez said the other day he's making a slight change in his music of this season's program for the Winter Olympics in Pyeongchang to create a stronger performance at the Gangneung Ice Arena where 30 of the world's best figure skaters will converge in a battle for the gold medal. The men's competition in the short program is set for Feb. 16 and in freeskate on Feb. 17.
Martinez, 21, was a last-minute choice to join the competition. He failed to qualify out of the 2017 World Championships in Helsinki and the 2017 Nebelhorn Trophy in Obertsdorf, Germany. Martinez finished No. 24 of 36 in Helsinki where the top 20 booked tickets to Pyeongchang. In Obertsdorf, Martinez wound up No. 8 of 26 with the top seven qualifying for the Winter Olympics. He was first in line in the waiting list in case of a drop out among the 30 qualifiers.
A week ago, the Swedish Olympic Committee returned the quota spot allocated to skater Alexander Majorov and opened a slot for Martinez. Majorov, 26, was born in Russia and moved to Sweden with his parents when he was six. He was No. 23 in the World Championships, a notch above Martinez.
At Nebelhorn, Martinez performed to the music of "Carmina Burana" in the short program and "El Tango de Roxanne" from "Moulin Rouge" and "Tango de los Exilados" in freeskate. That was the same music he used in bagging the silver at the Southeast Asian Games in Kuala Lumpur last year. Martinez said he'll keep the music for freeskate but use "Emerald Tiger" by electric violinist Vanessa Mae in the short program. "Emerald Tiger" was the music he performed to in the short program the previous season.
"Honestly, when I received the message from the POC and the Philippine Skating Union from a group chat that I made it, I jumped out of my bed and screamed 'What?' 'No!' 'Oh, my God!,'" said Martinez. "Those were my exact words and expressions I'll never forget. I can't believe I made it still. I was full of excitement and went off to practice feeling very motivated and told my coach (Vyacheslav Zagorodnyuk) the good news. My phone was bursting with messages, e-mails and calls. I thank God for giving me another chance."
In his second Winter Olympics, Martinez said he's out to do his best ever performance. "I'm dedicating this to us Filipinos and especially the people who love me so much and have been there, no matter what I am going through in life," he said. "Life is not easy and it never will be. I will be realizing my dreams again all because of every single person who is and was part of my life. My message to everyone in this lesson is don't stop yourself from what you need to do just because it's not going through as planned but just go and make new ways for you to realize your dreams and be where you want to be."
Martinez is the first Southeast Asian figure skater to perform in the Winter Olympics and made his debut in Sochi in 2014 when he landed No. 20 of 24. In Pyeongchang, Martinez and SEA Games gold medalist Julian Yee of Malaysia will be the only Southeast Asians in the men's competition.