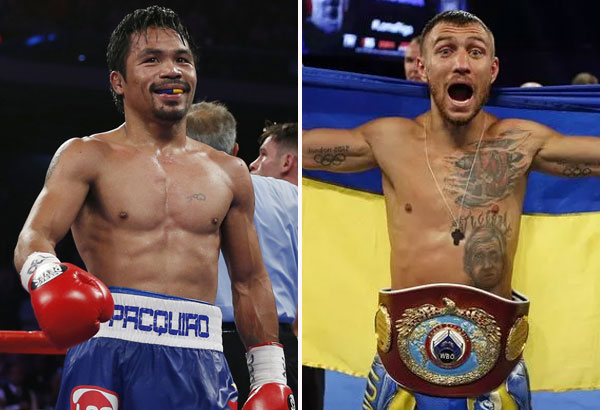 Manny Pacquiao and Vasyl Lomachenko
Beating Lomachenko not impossible for Pacquiao, says Roach
MANILA, Philippines – A 39-year-old Manny Pacquiao defeating a prime Vasyl Lomachenko is not out of the question, as far as trainer Freddie Roach is concerned.
But it will take 100 percent of Pacquiao's attention for the Filipino icon to pull it off.
Speaking recently to Steve Kim of BoxingScene.com, the multi-awarded trainer said he believes Pacquiao can overcome a tough fight with the 29-year-old Lomachenko, provided he gives up his other job as senator.
"But the thing is we need a real good training camp and we need him to get out of being a senator for a little while," Roach told Kim.
"I said, 'Manny, this is too tough a sport to have another job'," he added.
Pacquiao has set his sights on Lomachenko, the reigning WBO super featherweight champion and currently considered as among the top pound-for-pound fighters in the world.
That fight though isn't expected to happen anytime soon for various reasons, including the fact that Lomachenko's camp isn't keen on the boxer moving up two divisions for a welterweight showdown with Pacquiao.
Nevertheless, many observers think that at this point, the Ukrainian star may be too much for Pacquiao, who is already in the twilight of his career.
Pacquiao hasn't fought since losing last year to Australian Jeff Horn, whom many thought the Filipino star should have easily dealt with. Age, however, has clearly caught up with Pacquiao as he struggled with Horn's size and rough style.
The more skilled Lomachenko is clearly a different animal, and Roach said Pacquiao has to work extra hard for a chance to neutralize the young champion's speed and footwork.
"You've got to concentrate and be really, really prepared for this fight and you have to be aggressive in this fight because [Lomachenko] does have great footwork but if you press him hard enough and so forth," Roach continued.
"You take that game away from him and he's beatable."