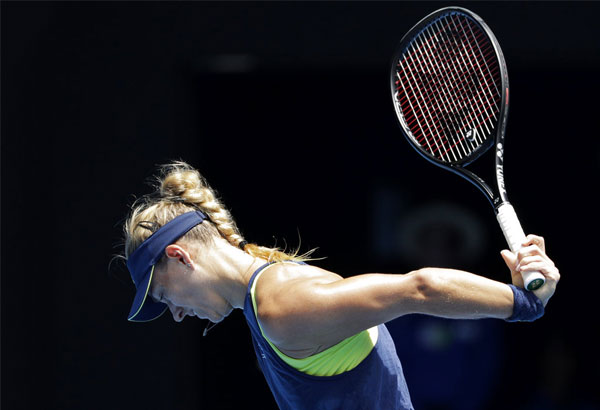 Germany's Angelique Kerber reacts after losing a point to Taiwan's Hsieh Su-wei during their fourth round match at the Australian Open tennis championships in Melbourne, Australia, Monday, Jan. 22, 2018. | AP Photo/Dita Alangkara
Kerber averts upset, faces Keys next in Australian Open
John Pye
(Associated Press) - January 22, 2018 - 3:45pm
MELBOURNE, Australia — Angelique Kerber remains the only Grand Slam singles winner in the Australian Open women's draw after rallying to avoid a major upset.
For a while it appeared Kerber's progression may have unraveled against No. 88 Hsieh Su-wei, a former top-ranked doubles player with a double-handed grip on both sides.
Former No. 1-ranked Kerber finally got a succession of breaks to finish off the second set and dominate the third in a 4-6, 7-5, 6-1 victory on Monday afternoon that earned her a quarterfinal spot against US Open finalist Madison Keys.
Defending champion Roger Federer had no such difficulties in reaching the Australian Open quarterfinals for the 14th time, calmly accounting for Marton Fucsovics 6-4, 7-6 (3), 6-2.
The 19-time major winner had never played Fucsovics, but had practiced against him, and beat his coach — Attila Savolt — here in the second round in 2002.
Federer will renew a lengthy rivalry next against Tomas Berdych, who returned to the Australian Open quarterfinals for the seventh time after a 6-1, 6-4, 6-4 win over Fabio Fognini.
Federer leads their career head-to-heads 19-6, including all four times they've met at Melbourne Park and in the Wimbledon semifinals last year.
The win over Fucsovics was Federer's first day match of the 2018 tournament, and he joked about needing sunglasses and a towel for the beach but really but said really the only change was to set the alarm for a different time.
Kerber was up earlier, and got a serious wakeup call.
With a mix of slice and chips, lobs and bunts, whippy half-volleys and wristy crosscourt ground strokes off both wings, Hsieh pushed Kerber to the extremes and unsettled her rhythm.
Former No. 1-ranked Kerber finally got a succession of breaks to take the second set and dominate the third in a 4-6, 7-5, 6-1 victory on Monday afternoon that gave her a 13th straight win in 2018.
"Credit to her. She played an unbelievable match," said Kerber, who won the Australian and US Open titles and reached No. 1 in 2016. "I was feeling I was running everywhere. She was playing a lot of corners and drop shots. I was bringing a lot of balls back."
Keys returned to the quarterfinals here for the first time in three years with a 6-3, 6-2 win over No. 8-seeded Caroline Garcia. She has yet to drop a set so far.
Keys said she feels like she's playing without pressure since returning from her wrist injury that forced her out of last year's Australian Open.
"I definitely realize how much l love it and how much pressure I put on myself," in the past, she said. "Just being really happy to be back out here and not at home in a cast."
Hsieh certainly made the most of her time back in the spotlight, returning to the fourth round at a major for the first round in a decade.
She took out one major winner — Wimbledon champion Garbine Muguruza — in the second round, and took the first set of Kerber.
That forced Kerber, returning from a form slump that saw her ranking drop into the 20s in 2017, to produce some of her best tennis.
She finished a 14-shot rally early in the second set by racing to the net and reaching at full stretch to track down a drop shot and send a forehand winner over the net post.
Kerber had to serve to stay in the match in the second set. Then, after converting a break-point chance with a sliding forehand winner down the line, Kerber crouched and screamed to celebrate the point.
She served out the second set at love and then got critical service breaks in the first and fifth games of the third.
Hsieh has won two Grand Slam doubles titles, and was ranked No. 1 in doubles in 2014 but had a career-high singles ranking of 23. At age 32, she was oldest woman still in the singles draw. Recent work with former doubles champion Paul McNamee paid off with her singles ranking expected to rise again.