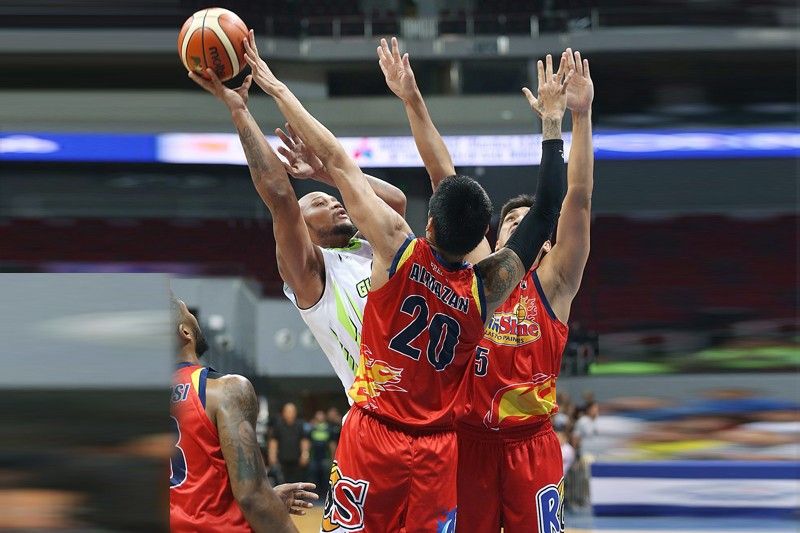 Kelly Nabong of GlobalPort is foiled by Raymond Almazan of Rain or Shine as Jewel Ponferada provides help defense in this PBA Philippine Cup action at Mall of Asia Arena last night. Joey Mendoza
Stanley gives Global Port sprinkle of hope
MANILA, Philippines — Stanley Pringle brought the house down with 29 points and drew the needed support as GlobalPort topped Rain or Shine, 78-70, for its first win in the PBA Philippine Cup at the MOA Arena in Pasay City last night.
Kelly Nabong and Sean Anthony both put in double-double numbers while Bradwyn Guinto fell one rebound short of his own double-double outing as the Batang Pier finally overcame the absence of top gun Terrence Romeo to nail their first win after back-to-back losses to NLEX and Barangay Ginebra.
The Batang Pier played tough on both ends of the floor, winning a defensive battle versus the ROS side that struggled with its own health woes.
With Chris Tiu joining Jay Washington and Jericho Cruz on the sideline, the Elasto Painters absorbed their second straight loss after a triumphant season debut over the TNT KaTropa Texters.
Pringle stood out with another explosive performance where he fired 20 points in the first half and nine in the payoff quarter.
Anthony made a first rebound-assist double-double game in the league in seven years with 13 boards and a career-best 12 dish-offs while Nabong delivered a third straight double-double game with 13 boards and 12 markers.
Guinto was another GlobalPort player who turned in a double-digit number with 10 points that went with nine rebounds and one block as the Batang Pier finally broke into the win-column while awaiting the return of Romeo from a knee injury.
The whole GlobalPort didn't lack the effort on the defensive end, holding ROS down to a miserable 28-percent shooting.
Later in the night, Blackwater played an aggressive and smart game, clipping the big men and big guns of Barangay Ginebra in a remarkable 94-77 triumph.
Poy Erram and Mac Belo scored 22 points each and combined for 18 rebounds, leading an amazing Blackwater stand against the reigning Governors Cup back-to-back champs that forced a heavy five-way tie at second place (2-1).
NOTES: For Blackwater Elite team owner Dioceldo Sy, it's better for the league to promote Willie Marcial to full-pledge commissioner. Sy said he'll bat for Marcial to be the league's next top honcho, succeeding Chito Narvasa.
The scores:
First Game
Globalport 78 – Pringle 29, Nabong 12, Guinto 10, Grey 8, Sargent 8, Gabayni 4, Anthony 3, Flores 2, Elorde 2, Arana 0, Juico 0, Taha 0.
Rain Or Shine 70 – Norwood 15, Borboran 13, Ahanmisi 10, Belga 8, Nambatac 6, Yap 5, Ponferada 3, Daquioag 3, Trollano 3, Almazan 2, Maiquez 2,
Quarterscores: 19-18, 41-35, 58-56, 78-70
Second Game
Blackwater 94 – Erram 22, Belo 22, Maliksi 17, Jose 8, Digregorio 8, Sena 7, Cortez 4, Palma 4, Marcelo 2, Pinto 0, Cruz 0, Sumang 0.
GINEBRA 77 – Slaughter 20, Tenorio 16, Aguilar 14, Thompson 12, Cruz 4, Taha 4, Caguioa 3, Ferrer 2, Mariano 2, Wilson 0, R. Aguilar 0.
Quarterscores: 19-19, 41-33, 64-61, 94-77