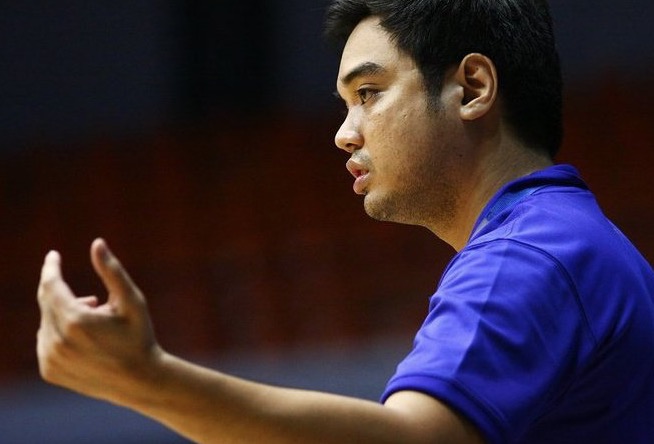 Joe Silva | Contributed Photo
Silva preaches caution for undefeated Blue Eaglets
(philstar.com) - January 3, 2018 - 6:41pm
MANILA, Philippines — Ateneo Blue Eaglets coach Joe Silva is urging his wards and warning them of a tougher second round when UAAP Juniors caging resumes this January 13.
The Blue Eaglets topped the first round with a 7-0 slate with National University close by at 6-1. UST is at third with a 5-2 record while defending champions FEU-FERN are at 4-3.
"We will have a bigger target on our backs," underscored Silva who while also working in the senior Blue Eagles staff, saw the tough second round challenge of other squads en route to Ateneo's recent seniors UAAP championship. "All our opponents will work doubly hard to exploit mismatches and to capitalize on our weaknesses. They will study video and look at the stats to find our weaknesses."
The Blue Eaglets are led by seniors Amchel Angeles, SJ Belangel, Jason Credo, Dave Ildefonso, and Joaqui Manuel. Center Kai Sotto is only in his second season.
"The morale of our team is still the same as the season started. Next play, next, man, next game. We aren't caught up in the standings. We need to play each game like it is our last. This means the boys are motivated to get better and work harder."
The Ateneo High School's last UAAP Juniors crown came during Season 77 when the team was led by Matt and Mike Nieto, Jolo Mendoza, Gian Mamuyac, and BJ Andrade who are all now playing for the seniors' squad under Tab Baldwin.
Silva added that he expects his other players, Rap Escalona, center Geo Chiu, and forward Daniel David to pick it up by several notches. "We're going up a notch but still it's anyone who can step up."
Ateneo starts its second round campaign versus the UST Tiger Cubs on January 13 at the Filoil Flying V Centre.