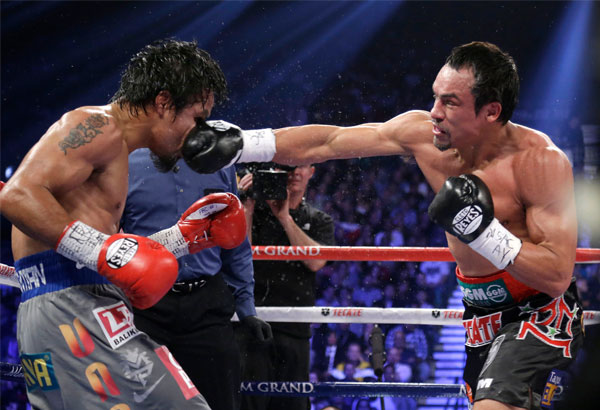 Juan Manuel Marquez will be best remembered for his epic four-fight rivalry with Manny Pacquiao. | Julie Jacobson/AP
Marquez claims rejecting $100M for 5th Pacquiao fight
MANILA, Philippines – No amount of money can convince Juan Manuel Marquez to fight archrival Manny Pacquiao for the fight time.
Not even a jaw-dropping $100 million.
Marquez recently claimed he turned down a huge offer from investors to once again tangle with Pacquiao in a bout to be staged in the Philippines.
"There was an offer for a fifth fight against Pacquiao in the Philippines for $100 million dollars, and I refused in order to keep my honor and the glory of the fourth fight from 2012," the Mexican legend recently told ESPN Deportes.
Marquez, who recently retired from boxing, just sees no point in stepping in the ring again with Pacquiao. After a close trilogy, Marquez registered the most convincing result of their storied rivalry when he knocked Pacquiao out cold in 2012.
It was Marquez's greatest victory, and the 44-year-old former fighter stressed he's already contented with what he has achieved.
"It ($100 million) is a lot of money — but honor, pride and what we did is more important than doing a fifth fight," he added.
"Let's pretend that the fifth fight would happen. How about if I get robbed in the fight, we do not know what can happen, he's capable of hitting me with the right shot and hurting me badly. So I would place myself at risk," Marquez continued.
While Marquez has already called it quits, Pacquiao, for his part, is far from done, eyeing to come back sometime next year. The Filipino icon is looking to bounce back from a loss to Jeff Horn last July.
He's also open to another bout with Marquez. But the feeling isn't mutual.
"The glory and what we did in 2012 is worth more than that amount they were offering," Marquez said.