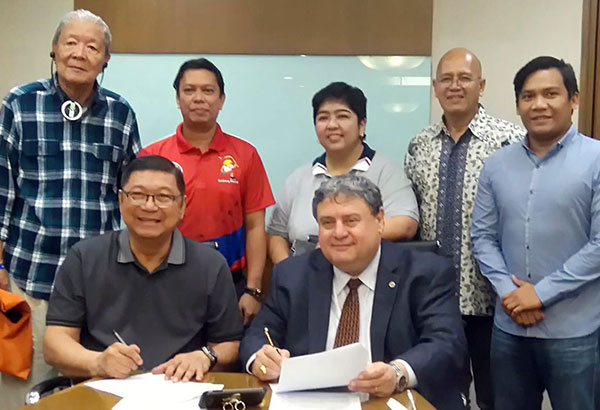 PSC chairman William Ramirez and USSA chief Dr. Thomas Rosandich sign the agreement in the presence of PSC consultant Dr. Perry Mequi, PSC commissioner Charles Raymond Maxey, PSC executive director Atty. Sannah Frivaldo, Philippine Sports Institute deputy training director Henry Daut and PSI national training director Marc Edward Velasco.
Abac Cordero
(The Philippine Star) - October 31, 2017 - 4:00pm
MANILA, Philippines — The Philippine Sports Commission (PSC) is reaching out to all the superpowers in sports in a bid to boost and strenghten its own program of building elite athletes.
With existing partnerships with China, South Korea, Russia, Australia, Cuba and Spain, among others, the PSC under chairman William Ramirez recently struck another deal with the United States Sports Academy (USSA).
"We are trying to get help from anyone who's willing to help," said Ramirez.
This time, it's a deal with the USSA that was signed a few days ago at the Marco Polo Hotel in Davao.
A Protocol of Cooperation (POC) was signed by USSA president and CEO Dr. Thomas Rosandich and the PSC chairman, a sports educator from Davao.
After the signing, Rosandich read the USSA's mission statement to serve as resource for development of sports for the United States of America and the world.
The American official stressed that USSA focuses on education, research and service.
"We have taught programs to over 65 countries. This (partnership) is part of our mission," he said.
Ramirez, who had visited numerous countries trying to observe and learn from their existing sports programs, thanked the USSA chief for gracing the 2017 International Conference on Physical Education, Recreation, Fitness and Sports Science at The Royal Mandaya Hotel.
Ramirez said the USSA will help the PSC strengthen elite sports and grassroots sports programs.
According to agreement, the USSA will work with government entities and organizations designated by PSC, and contribute to the development of national sports effort; utilize its expertise to review and submit reccomendations with respect to the education and training employed by the PSC and its affiliates such as the PSI in the conduct of national sport initiatives; and provide education and training programs to individuals and groups that the PSC will identify.
The partnership will also involve the Department of Education, Commission on Higher Education, Philippine Olympic Committee, Department of the Interior and Local Government (DILG) and national sports associations (NSAs).
The USSA will also assess and submit recommendations to sports program support; work with designated PSC or government entity to develop programs of sports related to cultural exchanges; and will assist PSC in the implementation of strategies of cooperation.