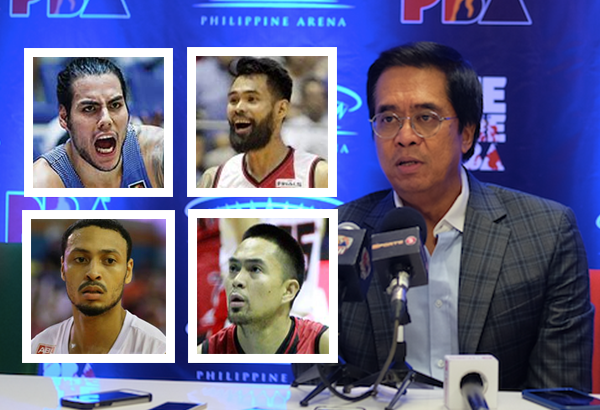 PBA Commissioner Chito Narvasa during a presser at the Philippine Arena in Bocaue, Bulacan. Inset photos show the players involved in the hot Kia-San Miguel trade. | Denison Rey A. Dalupang/Philstar.com
TNT blasts Narvasa's name-dropping of KaTropa exec in 'Standhardinger' trade
MANILA, Philippines – The TNT KaTropa management on Sunday cried foul over the mention of the name of Magnum Membrere in a statement PBA commissioner Chito Narvasa made in announcing his decision to approve the much-talked-about Kia-San Miguel Beer trade deal.
"The TNT management resented the statement of Commissioner Narvasa. (It's) uncalled for and just proved he is biased," said TNT team manager Virgil Villavicencio.
"Why did he have to use us to justify his decision? In addition, any team has the right to see what trades would make sense for them regardless of players thrown into the equation," Villavicencio added.
Narvasa hinted TNT KaTropa also made an attempt to strike a trade deal with Kia while he explained how he came to a decision approving the Kia-SMB transaction.
The league top honcho divulged Membrere, the TNT assistant team manager, was the one who submitted Standhardinger's draft application to the PBA office.
But Villavicencio explained Membrere did that as representative of Smart Gilas, for which Standhardinger played for in the Jones Cup, in the FIBA Asia Cup and in the Southeast Asian Games last year.
"It was a sincere gesture to assist Standhardinger with a basic filing process because he flew back to Germany after the SEA Games," said Villavicencio.
"Com Chito talked to Standhardinger in Lebanon to join the draft. He cleared that it would be okay for Standhardinger to miss the draft camp and have a proxy to submit his application since he will be out of the country. So, another person submitted the draft application on his behalf," Villavicencio added.
The TNT team manager resented the need to mention the Membrere's name.
"No logical reason to divulge the info other than a futile and pathetic attempt to take the spotlight off him," Villavicencio said.
Even with the trade revision, TNT hit the transaction as one-sided.
San Miguel acquired the No. 1 draft rights that they used for Standhardinger while giving away JayR Reyes, Rashawn McCarthy, Ronald Tubid plus a future draft pick.
"His decision robs the PBA of the dynamism, excitement and suspense that a player of Standhardinger's caliber would bring going up against June Mar Fajardo. If the commissioner does not see this simple perspective, he may not be the right person for the job," said TNT in a statement.
"We are afraid as to who should be the custodian of the PBA's paramount interest. He talks about parity/equilibrium for trades, but where is it?" the statement added.