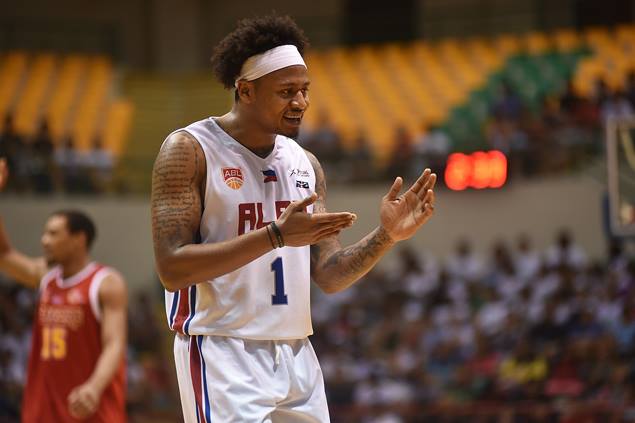 Bobby Ray Parks Jr. will continue to banner Alab Pilipinas in the ASEAN Basketball League. | Asean Basketball League
Alab eyes better finish in bigger ABL
MANILA, Philippines — Alab Pilipinas will face tougher competition in their second year in the ASEAN Basketball League.
The ABL will be larger in its eighth season, with a record nine teams seeing action.
Taiwan's Formosa Dreamers, China's Nanhai Long Lions, Indonesia's CLS Knights Indonesia and Thailand's Mono Vampire Basketball Club will join the regional tournament.
The Dreamers will replace the Kaohsiung Truth while the Vampires will return after a year of absence.
A veteran team in CLS Knights will test their mettle in the league while the Long Lions will compete as a newly formed squad.
The Hong Kong Eastern will return to defend their title along with the Westports Malaysia Dragons, Singapore Slingers, Saigon Heat and Alab.
Alab Pilipinas Team Manager Charlie Dy said they will try to improve from their third place finish last season.
"We will be the biggest threat (to Hong Kong's title defense)," he said at the press con in Shangri-La at the Fort, Tuesday.
Dy added that for the upcoming season, they will be called Tanduay-Alab Pilipinas.
Reigning Most Valuable Player Bobby Ray Parks Jr. will banner Alab along with former Alaska star Dondon Hontiveros, whose contract in the PBA expired just recently.
Also reinforcing the squad are Lawrence Domingo and Ivan Johnson.
Former PBA player and Meralco Bolts consultant Jimmy Alapag will call the shots.
The ABL will divide the countries in three groups and will play a total of 20 games with even home and away games.
The top two teams in the standings will advance directly to the semifinals while the third to sixth placers will compete in the quarterfinals stage.
The first two rounds of the playoffs will be a best-of-three affair while the finals will be a best-of-five series.
Tanduay-Alab will open the season against Hong Kong Eastern at the Mall of Asia Arena in Pasay on November 19.