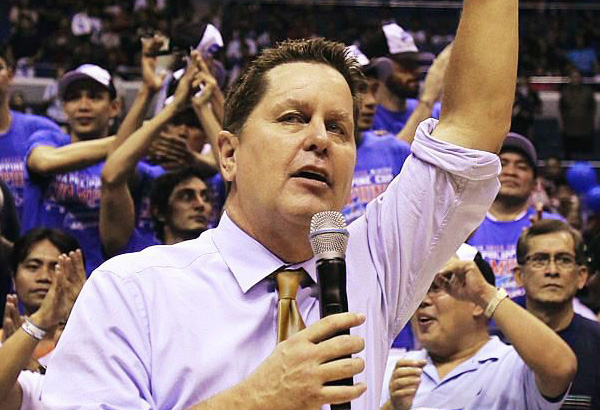 Barangay Ginebra coach Tim Cone. File
Cone knows 2-0 not safe cushion
MANILA, Philippines — Barangay Ginebra coach Tim Cone won't need to be reminded that a 2-0 lead in the PBA Governors Cup best-of-seven Finals is no guarantee of a safe cushion. In the 2002 Governor's Cup Finals, Cone was Alaska's coach when the Aces went up, 2-0, over Purefoods but the Tender Juicy Hotdogs, with Ryan Gregorio calling the shots, battled back to win the title, 4-3.
After Ginebra beat Meralco, 86-76, to move ahead, 2-0, in the Governors Cup Finals before 16,159 fans at the Smart Araneta Coliseum last Sunday, Cone said the lead is no guarantee of security. He mentioned that while Ginebra has won two in a row, the possibility of Meralco taking the next two games to tie the series isn't remote.
The records show there's a 82.6 percent chance of Ginebra capturing the crown since it was the trend in 38 of 46 previous best-of-seven series where a team surged to a 2-0 advantage. In seven of the last eight Finals where a team led 2-0, it went on to clinch.
But what should keep Cone's feet on the ground is the nightmarish memory of the 2002 Governors Cup Finals whose format allowed the use of two imports per team. Cone's Alaska squad was bannered by James Head, Ron Riley, John Arigo, Don Allado and Jojo Lastimosa while Gregorio's Purefoods team included Derrick Brown, Kelvin Price, Rey Evangelista, Roger Yap, Ronnie Magsanoc and Alvin Patrimonio.
In Game 1 of the 2002 edition, Alaska prevailed, 79-73 and repeated in Game 2, 106-102 in double overtime. Then, Purefoods roared back to win three in a row, 80-66, 82-76, 84-72. The Aces evened the series in Game 6, 84-72, before the Hotdogs clinched it, 85-78.
Cone is in his 32nd Finals appearance and 24th in a best-of-7 title series. He has captured 19 titles so far. Meralco's Norman Black is in his 18th Finals as a coach with 11 championships under his belt. This is the fourth Finals where Cone and Black are squaring off with the Ginebra coach winning the previous three clashes in the 1995 Governors Cup, 2014 Commissioner's Cup and 2016 Governors Cup.
In last season's Governors Cup Finals, Meralco sat on a 2-1 lead but Ginebra regrouped to win three in a row to clinch, 4-2. The comeback is a reminder to Cone that a 2-1 edge is no promise of a safe passage to the throne.
Ginebra assistant coach Richard del Rosario said he'll never forget the experience of storming back after losing Game 1 of the Governors Cup Finals last year. "That was really tough," he said. "We battled from behind after losing Game 1. We again fell behind by a big margin in Game 4 until we were saved by the Fast and the Furious (JayJay Helterbrand and Mark Caguioa). Had we lost that game, it would have really been difficult to win the series. It was like a storybook ending for us with Justin Brownlee's buzzer-beater to win the crown."
Del Rosario said the experience must also be fresh in Meralco's mind. "That gives Meralco extra motivation to beat us this time," he said. "RDO (Ranidel de Ocampo) and JD (Jared Dillinger) are game-changers because they not only add size to matching up with us but they also complement (Allen) Durham very well as they're great floor spacers."
But Del Rosario said 7-foot center Greg Slaughter's return to the active list is a major positive. "Greg gives us a different approach to our game as compared to last year," he said, referring to Slaughter's absence in the previous Governors Cup Finals because of an ACL injury. "If we can put Greg in the right spots on both ends of the floor, he'll be our biggest weapon. He's playing to get his first title and we expect a lot from him. Given the story of this rematch of the Governors Cup Finals, I expect a long series. They want revenge. We want to repeat."