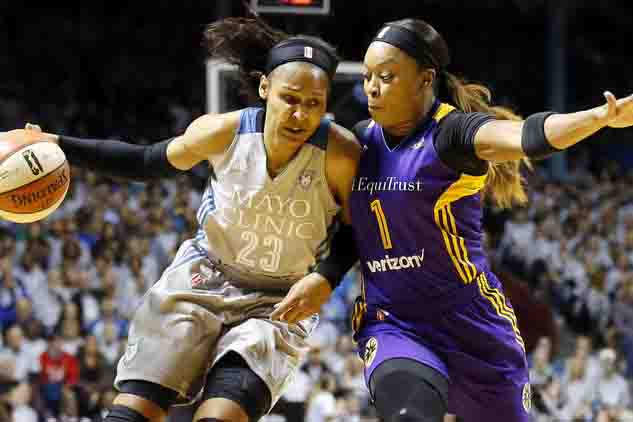 Minnesota Lynx's Maya Moore, left, drives around Los Angeles Sparks' Odyssey Sims in the first half during Game 5 of the WNBA Finals Wednesday, Oct. 4, 2017, in Minneapolis. | Jim Mone / AP
Lynx capture 4th WNBA title with 85-76 win over Sparks
MINNEAPOLIS, Minnesota — Sylvia Fowles had 17 points and broke her own WNBA Finals record by grabbing 20 rebounds to lead the Minnesota Lynx to their fourth championship in seven years with an 85-76 victory over the Los Angeles Sparks in Game 5 on Wednesday (Thursday in Manila).
Maya Moore had 18 points and 10 rebounds and hit a huge runner with 26 seconds to play, Lindsay Whalen had 17 points and eight assists and Seimone Augustus added 14 points to help the Lynx move level with the Houston Comets for most titles in league history.
Candace Parker had 19 points, 15 rebounds and five assists for the Sparks, who were looking to become the first repeat champions in 15 years. Chelsea Gray had 15 points and eight assists, but Nneka Ogwumike fouled out with 5:29 to play and finished with 11 points. Los Angeles turned it over 17 times.
With a team that had the makings of a new dynasty bearing down on it, the Lynx responded to reassert their own. They have been in the finals in six of the last seven years and now find themselves in the company of Cynthia Cooper, Sheryl Swoopes and the Comets that dominated the league's early days.
The game the Lynx rule now is bigger, faster and deeper and the proud core of Moore, Rebekkah Brunson, Augustus and Whalen have had to earn everything they've accomplished. They led by 12 in the third quarter, but Los Angeles pushed right back, trimming the deficit to four at the start of the fourth.
Coach Cheryl Reeve has always regretted not getting Fowles more involved late in Game 5 a year ago, and they made sure to force-feed their MVP this time around to close the door. After Parker's 3 cut Minnesota's lead to 68-64, Fowles corralled a loose ball and finger-rolled it in just ahead of the shot clock buzzer for a 70-64 lead.
The Lynx looked to have things in control when Augustus's jumper gave them a 79-67 lead that lasted until Jantel Lavender's layup with 90 seconds to go. But Riquna Williams hit two free throws and Sims had two steals for layups, one of which she converted for a three-point play to pull Los Angeles within 79-76 with 35 seconds to go.
But Moore responded with a tough pull-up in the lane and Fowles hit a couple of foul shots to ice it.
A rivalry this tight just had to come down to a Game 5, and Minnesota forced it with an 80-69 victory Sunday in Los Angeles. The Sparks and Lynx went five games last year before Los Angeles won on a last-second put-back from Ogwumike. The previous 12 meetings between these two teams, starting with Game 1 of last year's finals, had a cumulative score of 908-908.
A capacity crowd packed Williams Arena, turning one of the oldest basketball arenas in the country into a rollicking women's hoops mecca, reminiscent of Whalen's days here as a star for the University of Minnesota Golden Gophers. The old "Barn" is filled with obstructed views — seats behind support posts and under awnings that make seeing the court difficult.
They were all filled on Wednesday night, and even if they had to crane their necks for the right view, they saw a game as long on turnovers as it was tension. The Lynx turned it over 18 times, but were able to overcome that with 22 points off of the Sparks' mistakes.