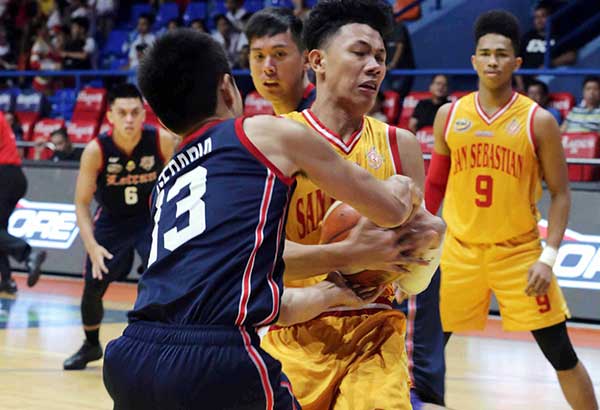 A driving Jim Calma of San Sebastian rams into the defense of Letran's Tommy Gedaria. ERNIE PEñAREDONDO
Pirates extend streak, rip Generals
Joey Villar
(The Philippine Star) - September 26, 2017 - 4:00pm
Games tomorrow
12 noon – CSB vs Mapua (jrs)
2 p.m. – CSB vs Mapua (srs)
4 p.m. – San Beda vs AU (srs)
6 p.m. – San Beda vs AU (jrs)
MANILA, Philippines — Lyceum of the Philippines University kept its win run going, repulsing Emilio Aguinaldo College, 86-74, and moving four wins away from sweeping its way to the finals of the 93rd NCAA men's basketball tournament at the Filoil Flying V Center in San Juan City yesterday.
MJ Ayaay shot 15 points and hauled down nine rebounds while Jaymar Perez and Jaycee Marcelino added 13 and 11 markers, respectively, as the Pirates nailed their 14th straight win and stayed on course for barging straight into the finals with a huge thrice-to-beat edge.
They take on the San Sebastian Stags on Friday, clash with the Letran Knights and the Jose Rizal U Bombers on Oct. 6 and 13, respectively, before squaring off with the defending champion San Beda Red Lions on Oct. 19.
"We have to take it one game at a time and not look far ahead because we'll be playing Final Four contenders in our last four games," said LPU coach Topex Robinson.
The Generals absorbed their eighth defeat against six wins.
Earlier, San Sebastian sizzled from the long range and shackled Letran with its vaunted defense to fashion out a 95-64 rout yesterday and barge into the Top Four of the NCAA men's basketball tournament at the Filoil Flying V Center in San Juan.
The Stags drilled in a season high 16 triples and rode on a big second half charge to demolish the Knights and gain a share of third with the idle Jose Rizal U Bombers at 7-6.
The Knights dropped to fifth with a 7-7 card.
Jayson David, Allyn Bulanadi and Michael Calisaan fired 17, 16 and 13 points, respectively, while combining for seven treys as the Stags outscored the Knights, 24-11, in the third to pull away at 69-45 heading to the last 10 minutes of play.
David underscored the Stag's pesky defense by accounting for four of the team's 10 steals. He also finished with five rebounds and a shot block.
The scores:
First Game
San Sebastian 95 – David 17, Bulanadi 16, Calisaan 13, Gayosa 9, Costelo 6, Navarro 6, Are 6, Capobres 4, Mercado 4, Calma 3, Ilagan 3, Baytan 3, Valdez 3, Baetiong 2, Quipse 0
Letran 64 – Quinto 14, Balanza 13, Calvo 7, Mandreza 7, Taladua 4, Balagasay 3, Vacaro 3, Pascual 2, Caralipio 1, Bernabe 0, Gedaria 0
Quarterscores: 25-11; 45-38; 69-47; 95-64
Second Game
LPU 86 – Ayaay 15, Perez 13, Marcelino, Jc. 11, Caduyac 9, Marcelino, Jv 7, Tansingco 7, Cinco 5, Baltazar 2, Ibanez 2, Santos 2, Liwag 2, Marata 0
EAC 74 – Garcia 17, Onwubere 15, Munsayac 9, Tampoc 8, Bugarin 6, Guzman 5, Diego 4, Mendoza 3, Corilla 3, Neri 2, J. Mendoza 2, Pascua 0
Quarterscores: 29-19; 54-39; 74-59; 86-74