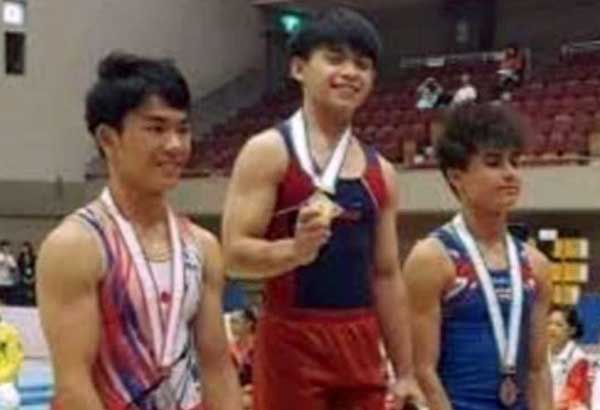 Carlos Yulo (center) takes the gold in vault at the International Junior Gymnastics Competition in Yokohama last Monday.
Yulo claims gold in Int'l gymnastics
MANILA, Philippines — Hampered by a shoulder injury, 17-year-old Carlos Yulo overcame hefty odds to capture the gold medal in vault at the International Junior Gymnastics Competition in Yokohama last Monday and established himself as a serious medal contender in the 2020 Olympics.
Yulo, a two-time Palarong Pambansa champion, focused on two of the six events in Yokohama to conserve his strength for the vault and floor. He skipped the pommel horse, rings, parallel bars and horizontal bar. The strategy paid off as Yulo stood out in the eight-man final in vault and took the silver medal in floor. But in the all-around results, Yulo finished last among 22 competitors from 11 countries, scoring zero in the four events that he sat out. Aside from the Philippines, the countries that participated in the competition were Japan, UK, USA, Brazil, Australia, New Zealand, Russia, Canada, Ukraine, China and Singapore.
Others on the podium in vault were silver medalist Shiga Tachibana of Japan and bronze medalist Jake Jarman of the UK. In floor, the gold medal went to Weide Su of China and the bronze to Kakuto Murayama of Japan.
Gymnastics Association of the Philippines (GAP) president Cynthia Carrion said she's now arranging a scholarship for Yulo at the Teikyo University in Tokyo. "I'm trying to get a sponsor for him as we plan to transfer him to Teikyo where the gymnastics program is one of the world's best but it will cost about P900,000 a year," she said. "In Yokohama, Caloy competed in only two apparatus because of his injured shoulder but he still took a gold and a silver. It was a difficult competition with competitors from all over the world."
Carrion said Yulo would've swept the men's events at the recent SEA Games in Kuala Lumpur but couldn't compete because he was under-age. She appealed to organizers to lower the age floor from 18 to 17 but it was denied. "Caloy would've brought back seven gold medals from K. L. if he competed," she said. At the SEA Games, the Philippines struck gold in two of 21 events as Reynald Capellan topped the floor and Kaitlin de Guzman the uneven bars.
Carrion said the Philippines' Japanese coach Munehiro Kugimiya played a key role in boosting Yulo's stock. Kugimiya was recruited by GAP as national coach four years ago. Linzi Arellano-Co, one of the country's brevit international gymnastics judges, said Yulo has what it takes to become an Olympic medalist.
"Caloy is a true product of grassroots development," said Co. "I've watched him train and compete for years and is incredibly focused and a hard worker. He's been identified as a serious contender for Tokyo 2020 and so the NSA, PSC and POC are working together to hopefully, make it happen. He's been training in Japan for over a year and the results have shown progress. He trains long hard hours alone, six to eight hours a day, six days a week, leaving his family, living in a different country where you can barely speak the language, dealing with homesickness, injuries, success and defeat. Very rarely, this system works. Thanks to coach Munehiro for caring and going above and beyond being a coach. To Caloy's parents Mark and Angelica, who've been encouraging and supportive all the way for years, to Tita Cynthia and (GAP secretary-general) Tita Bettina (Pou), our NSA heads who've screamed and maybe slightly harassed the higher-ups to get Caloy noticed and supported, giant thank yous. Congratulations to Caloy for sacrificing for the sport and country he loves."
Carrion said GAP is doing its part in paving the way for Filipino gymnasts to excel. "You can't imagine how much work we've all done for gymnastics," she said. "We started with no judges and no coaches. Now, Linzi is one of our brevit judges who passed all the tests from the International Federation technical experts in Lausanne. She is now certified to judge in all World, SA Games, Asian Games and Olympic competitions. When we join any competition, we need to bring two brevit judges or we pay a fee of $1,200 each."