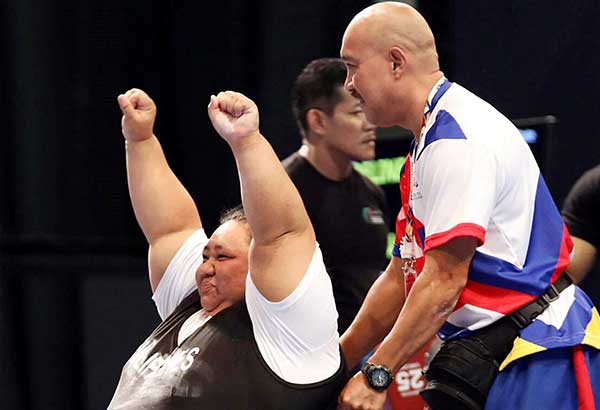 Powerlifter Adeline Dumapong-Ancheta raises her arms in triumph after dominating the +86kg category in the ASEAN Para Games.PNA photo by Joey Razon
Adeline keeps hot Team Phl on golden roll
Joey Villar
(The Philippine Star) - September 21, 2017 - 4:00pm
KUALA LUMPUR – Team Philippines kept the momentum of its eight-gold haul Wednesday, racking up five more yesterday with sprint queen Cielo Honasan and veteran lifter Adeline Dumapong-Ancheta anchoring the Filipinos' campaign in the ninth ASEAN Para Games here.
Honasan, 15, topped the 400m for T44 and T45 athletes in 63.35 seconds to cap a golden treble, counting her victories in the sprints (100m and 200m dash) in the past two days.
Thai Gagun Pagjiraporn, classified in a higher class at T45 as against the Zambales City bet's T44, led in the first 150 meters but lost steam midway, enabling Honasan to surge ahead and nail her third gold on a strong finishing kick.
Pagjiraporn settled for silver in 66.41 while Cambodian Vet Chanta took the bronze in 76.43.
"I couldn't hold my emotions because I still couldn't believe I won a third gold," said Honasan.
Powerlifter Dumapong-Ancheta, one of the Filipino Para Games pioneers, extended her reign as she copped the over-86kg gold with a lift of 116kg, beating Indonesia's Sriyanti (105kg) and Malaysia's Sharifah Raudzah Binti (95kg).
"Mission accomplished," said the 43-year-old Dumapong-Ancheta, the country's first Paralympic medal winner with a bronze in Sydney 17 years ago.
Honasan's triumph, meanwhile, gave Team Phl its eighth gold in athletics, three more than what they won in the 2015 Singapore Games.
It was also the Phl's 16th gold on top of 17 silvers and 18 bronzes as the Filipinos matched their counterparts' haul in Singapore.
Indonesia virtually nailed the overall championship with still two days to go with 90 golds, 51 silvers and 36 bronzes with Malaysia too far behind at second with 68-63-51.
The Phl, meanwhile, hopes to hike its gold medal output as action resumes on the track and Hall 3 of MITEC where the chess team, led by double-gold medal winner Sande Severino, is also gunning for another gold.
The three other golds came from three-wheeled sprinter Prudencia Panaligan, wheelchair-bound thrower Cendy Asusano and blind thrower Rosalie Terrefiel.
Panaligan topped the 200m for T53/54 in 33.46, besting Thai Tpat Chatyotsakorn (33.93) and Vietnam's Nguyen Thi Xuan Anh (34.50).
Ruth Opena missed a podium finish and ended up fourth in 34.77.
Asusano, 27, heaved 14.06m to cop the discus throw gold for F54, besting Vietnam's Tran Thi Tu (12.46m)and Marites Burce (11.88m).
It was Asusano's second gold after she captured the javelin mint for F54 and F55 combined Monday.
Asusano, a native of Donsol, Sorsogon whose boyfriend Juanito Mingarine is a member of the Phl wheelchair basketball team competing here, will go for a third gold in today's shotpu final in athletics competitions.
After blowing her first four attempts, the 36-year-old Torrefiel, a Kidapawan native who lost her eyesight at age 14 after suffering from glaucoma, registered 20.75m.
She fouled on her sixth and last attempt.
It was all Torrefiel, who sells charcoal for a living, needed to snatch the gold from Malaysian Hemala Devi Eni Kutty (20.37) , the gold medal winner in the last two Para Games edition.
"One throw, that's all she (Torrefiel) needed," said Phl athletics coach Joel Deriada.
Jesebel Tordecilla added a bronze to her javelin silver by heaving 13.59m in the women's discus throw for F55.
Over at the Dataran Putrajaya track, Arthus Bucay (C5) and Godfrey Taberna (C4) settled for silver medals each.
Bucay, a 36-year-old Paralympian who bagged the individual time trial gold Wednesday and took two more silvers in the one-kilometer track and 4000 individual pursuit, had the same time as Zuhaire Bin Ahmad Tarmzi (1:24.11) but lost via photo finish.
It was the same for Taberna, who had the same clocking of 1:24.11 with Malaysian Mohd Najib Bin Turano and Indonesian Sufyan Saori.
Turano took the gold while Saori bagged the bronze.
Over at the Aquatics Center in Bukit Jalil, the Phl settled for a pair of bronze medals courtesy of Roland Sabido in the 100m backstroke for S9 and Gary Bejino in the 100m back for S7.