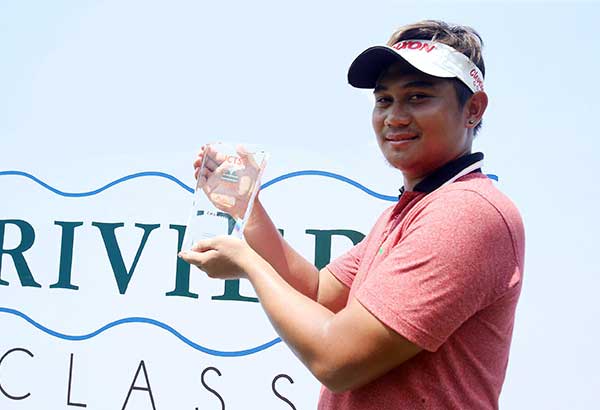 Mondilla thwarts Kim, captures PGTA Riviera title
(The Philippine Star) - September 16, 2017 - 4:00pm
SILANG, Cavite , Philippines — Clyde Mondilla survived a disastrous meltdown and bucked Tom Kim's fiery charge at the back, banging in a clutch birdie on No. 16 to hack out a two-stroke victory over the Korean amateur and Michael Bibat with a closing 67 in the $100,000 ICTSI Riviera Classic here yesterday.
Mondilla wiped out an overnight two-stroke deficit with a solid five-under 30 start but blew a five-shot lead at the back, enabling Kim to draw level on No. 13 on an eagle-spiked rally. They traded pars in the next two holes before Mondilla birdied the 16th from close range then watched his young rival succumb to pressure, hitting a couple of sloppy wedge shots on the par-5 hole and holing out with a bogey.
That crucial two-shot swing ended what had appeared to be another tight finish reminiscent of Rene Menor's record six-hole playoff victory over Thai Pasavee Lertvilai at ICTSI Splendido Classic as Mondilla matched Kim's par-bogey windup to cruise to a two-shot romp on a 72-hole total of nine-under 275.
"I'm thankful my driving and putting clicked when I needed them most," said Mondilla, who banked the top $17,500 purse in this third leg of the inaugural PGT Asia Tour put up by ICTSI and organized by Pilipinas Golf Tournaments, Inc.
The victory also erased the stigma of his playoff setback to Jay Bayron here in the ICTSI Philippine Golf Tour leg last year.
"I really wanted to win this tournament after losing to Jay (Bayron) in sudden death last year. I waited for one year to redeem myself and I'm so happy to have pulled it off," said Mondilla, who opened his bid here with a solid 65 only to reel back with mediocre 71-72 outputs in tough conditions in the middle rounds.
The victory was the Del Monte ace's third this year, counting his pair of thrilling one-stroke triumphs over Tony Lascuña and Miguel Tabuena at Manila Southwoods and over American Nicolas Paez, Jhonnel Ababa and Lascuña in the Philippine Masters revival at Villamor last May.
Three behind Kim and two off Mondilla at the start of the final round, Bibat pressed his bid with back-to-back birdies from No. 4 but stumbled with a bogey on No. 8. But he birdied two of the last six holes for a 68 and tied Kim, who ended up with an even-par 71, at second at 277s. He took the runner-up purse of $11,500 while Kim claimed the low amateur honors.