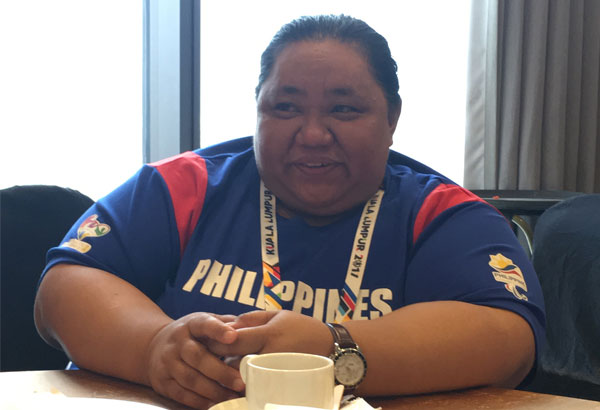 Powerlifters going for 2 golds in ASEAN Para Games
Joey Villar
(philstar.com) - September 14, 2017 - 7:58am
KUALA LUMPUR – Adeline Dumapong-Acheta, one of the few remaining pioneering athletes of the country's Paralympic movement, is optimistic her powerlifting team could win the Philippines a pair of gold medals in the ninth ASEAN Para Games, which unfolds Sunday at the Bukit Jalil National Sports Complex here.
Dumapong-Ancheta, who was already competing for years even before the very first Para Games was held in 2001 also here, said she had a strong chance of claiming the gold in the over-86 kilograms category, one of the two mints their team has predicted to win before they left to compete in this biennial meet.
"That's always my hope and mentality, to win in every I competition I entered into," said the 43-year-old Dumapong-Ancheta, the very first Filipino medal winner in the Paralympics after she copped a bronze in Sydney, Australia 17 years ago.
The Ifugao native has raked in a total of four ASEAN Para Games gold medals, including one in the last edition in Singapore two years back, apart from two more silvers.
She had two mints in the FESPIC Games, the precursor to the ASEAN Para Games, and two Asian Para Games silvers in Guangzhou, China in 2010 and Incheon, Korea in 2014 and many more in others locally and abroad.
Dumapong-Ancheta, however, considers this particular meet as something special as this could be her swan song before retirement beckons.
"Personally, I feel I have four or more competitive years in me. But if this may end my last, I want to really make it extra special and memorable," said Dumapong-Ancheta.
The other one gold is expected from another battle-scarred lifter Achelle Guion, who is looking to strike gold in the 45-kg division.
"Hopefully I'll get my second gold," said Guion who won a gold in Indonesia, a silver in Myanmar and a bronze in Singapore.
Dumapong-Ancheta also recalls the difficulty of being one of the very first Filipino Para athletes and how it has improved a lot at present.
"There was a time when we only had one simple white shirt with our flag emblazoned on it and we had to wait outside for four hours because we're still waiting for our officials to pay our accommodation," said Dumapong-Ancheta who couldn't control her tears from falling while recalling the past.
"Now, we have a law that give athletes like myself a monthly salary and incentives if we won in international meets like the ASEAN Para Games, Asian Games and Paralympics and I'm happy that I've helped in making it a reality," she added.
Based on Republic Act 10699 or an ACT Expanding the Coverage of Incentives Granted to National Ahletes and coaches authored by Sen. Sonny Angara, an ASEAN gold is worth P150,000, a silver P75,000 and a bronze P30,000, a marked improvement from the P15,000, P10,000 and P5,000 given for a gold, silver and bronze in the past.
Aside from it, the Philippine Sports Commission grants gold medal winners like Dumapong-Ancheta a monthly stipend worth P27,000, silver P22,000 and bronze P15,000, while developmental athletes and pool members receive P10,000 to P12,000 monthly, respectively.
Meanwhile, all athletes have started to undergo the classification process.
The event has four different classifications — orthopedically handicapped, visual impairment, intellectual impairment and cerebral palsy — and several more categories under each.
The team has fielded in 98 athletes, including three in boccia, 17 in chess, three in cycling, six in goal ball, five in powerlifting, nine in table tennis, 10 in swimming, 15 in tenpin bowling and 12 in wheelchair basketball.
Malaysia has the most number of athletes with 331 followed by Thailand (291), Indonesia (192), Vietnam (150) and Myanmar (120) while the other participants are Singapore (92), Cambodia (70), Laos (50), Brunei (27) and East Timor (14).