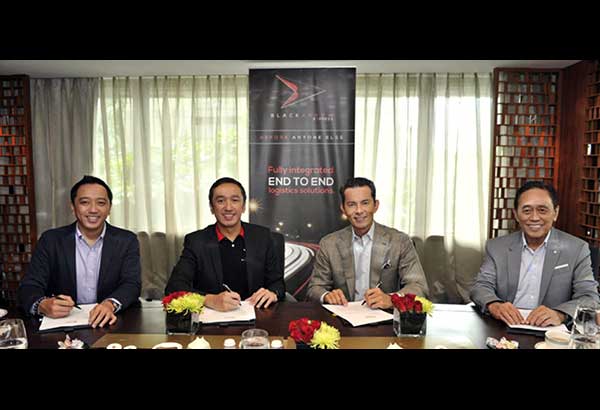 Black Arrow Express CEO Allan Brizuela (second from left) and Sunrise Events CEO Wilfred Uytengsu (second from right) sign the contract making AAI Worldwide, through its members AAI Worldwide Logistics and Black Arrow Express, the new Ironman Triathon sponsor from 2018-20. Others in photo are AAI Worldwide Logistics president Arnold Brizuela (left) and AAI Group chairman Rico Brizuela.
Black Arrow backs Ironman, 5i50 triathlon
(The Philippine Star) - September 13, 2017 - 4:00pm
MANILA, Philippines — Philippine triathlon gets a big boost as it drew a new sponsor for its annual 70.3 event beginning next year with the AAI Group of Companies, through its members AAI Worldwide Logistics and Black Arrow Express, also putting up the inaugural Black Arrow 5i50.
The inaugural Black Arrow Ironman triathlon is set on June 3, 2018 in Subic Bay.
As the official sponsor, AAI Worldwide will also be providing logistics support to stage the upcoming Ironman series from 2018 to 2020. Black Arrow Express, the "last-mile" and consumer company of the AAI Group, will be the title sponsor and will launch its own Black Arrow 5i50 triathlon series, also in the next three years.
Officials of the AAI Group of Companies, led by chairman Rico Brizuela, and Wilfred Uytengsu, president and founder of Sunrise Events, Inc., the official licensee of the Ironman Triathlon in the country, signed the sponsorship agreement recently.
The Phl Ironman series is the only other sanctioned Ironman event in the Southeast Asia region apart from Langkawi, Malaysia. It has lured some of the world's leading and rising triathletes in its past staging with the next three editions expected to attract more and more participants from around the world.
Black Arrow president Allan Brizuela, himself a 70.3 triathlon finisher, will also be racing in the upcoming full Ironman event on June 3, 2018.
"The AAI Group shares the same spirit and values of the triathlon where commitment to move goods and services often go through various modes of transport over land, air and sea," said Brizuela. "The same commitment to finish to the 'last-mile' is often the most grueling part of the race. Same goes for the Black Arrow which delivers to their customers' doors by foot through rain and flood sometimes."
For details, visit the AAI/Black Arrow 5i50 secretariat at blackarrowexpress@5150philippines.com.