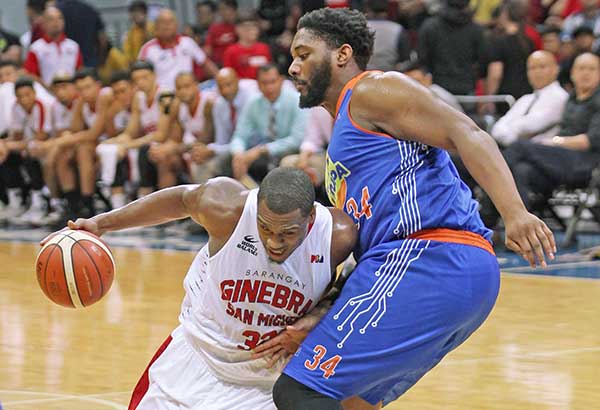 MANILA, Philippines — Barangay Ginebra head coach Tim Cone said the other day with JuneMar Fajardo, Japeth Aguilar and Greg Slaughter coming into their own as bigs of substance, size isn't a problem for Gilas anymore in international competitions.
Cone said instead of recruiting a seven-footer as a naturalized import, Gilas might consider hiring a wingman instead. Fajardo and Aguilar alternate at center or play together in a Twin Towers combination with Gilas. If Andray Blatche is in the lineup, coach Chot Reyes adjusts his combination with the nine-year NBA veteran or Aguilar playing three or four and Fajardo five.
Slaughter, who played on the Philippine team that took the gold medal at the 2011 SEA Games, declined invitations to try out for the 2014 FIBA World Cup and 2014 Incheon Asian Games. A series of injuries put the 7-foot Slaughter in cold storage for 60 PBA games starting from the Governors Cup last season to the end of the recent Commissioner's Cup. But he has since been reactivated and is back in dominant form.
Asked if he'd like to suit up for Gilas after a six-year absence from the national squad, Slaughter said, "I'm looking forward and very hopeful for the opportunity to play for the Philippines again." The drawback is under the agreement with the SBP, a PBA team is required to release only one veteran to Gilas and any addition would be optional. Ginebra may choose to release both Aguilar and Slaughter but that would mean creating a huge hole in the middle for the team in the PBA.
Cone said in the international game, roles are changing so that a power forward now seems to be obsolete. "Your big guy, the seven-footer, is basically a rim protector and the other guys play multiple positions," he said. "You don't need a stocky power forward like a Charles Oakley or an Amare Stoudemire or a Shawn Kemp anymore. Today's teams put a premium on a stretch four or a wingman who can shoot and put the ball on the floor. A big naturalized import will only take away minutes from JuneMar, Japeth or Greg, assuming they're in the Gilas team. Size used to be the reason why we lose in international competitions but now that we've got size, that can't be the reason anymore."
Cone said bringing in a 6-7 or a 6-8 naturalized import who can play three is an option to consider. "Right now, we use Gabe (Norwood) at three but he's more of a defender," he said. "I think we need a scoring wingman. Why not someone like Justin (Brownlee)? He was measured less than 6-5 by the PBA but by international standards, he's 6-7 wearing shoes. Justin is the kind of import who could fill a need with Gilas and not take away minutes from JuneMar, Japeth or Greg. He's coachable. His teammates adore him. I think he might even be more coachable than Sean Chambers. He works hard and is a leader on the court. In the dribble drive offense, it's all about pace and space. Justin can work within that system."
Brownlee, 29, led Ginebra to the Governors Cup crown last season, averaging 28.6 points and 11.3 rebounds. He's now on his third tour of PBA duty with Ginebra. Brownlee played two years with the St. John's University varsity before barnstorming Mexico, Italy and France as an import and settling in the PBA. His wife and two children are in town with him and his son Justin, Jr. is studying here.
Cone said Ginebra's last three games in the Governors Cup eliminations won't be easy. The barangay battles San Miguel Beer at the Smart Araneta Coliseum tonightthen Rain Or Shine at the MOA Arena on Sept. 16 and TNT KaTropa on Sept. 23 at the Big Dome. "As the challenge escalates, the need for teamwork elevates," said Cone.