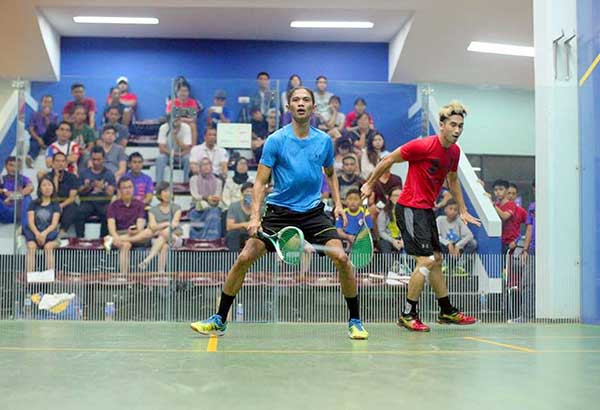 Robert Garcia leads the Philippine squash team in the SEA Games. Facebook@PhilippineSquashAcademy
Pinoy squashers aim for gold breakthrough
MANILA, Philippines - It's a long shot but Philippine Squash Academy (PSA) president and delegation deputy chef de mission Bob Bachmann said yesterday the target in the coming SEA Games is for the eight-strong squash team to deliver the country's first gold ever in the history of the 11-nation conclave.
There are nine gold medals at stake in squash in Kuala Lumpur and the competition will be staged over nine days on Aug. 21-29. Host Malaysia's goal is to capture seven gold medals even as former world women's champion Nicol David, now 33, is sitting out the action to give younger players a chance to shine. The squash events are singles for men and women, international doubles for men and women, jumbo doubles for men and women, mixed international doubles and team for men and women. Squash was introduced to the SEA Games in 1991 with nine stagings so far, missing out in 2003, 2009, 2011 and 2013. The Philippines has never claimed a gold nor a silver in the sport.
At the last SEA Games in Singapore two years ago, only five gold medals were on the line in squash with Malaysia bagging four and the Philippines pocketing three bronzes in the men's team, men's jumbo doubles and women's singles. Malaysia raised the medal stakes this year because the host nation is confident of a dominant showing.
The Philippine squad is made up of four players who campaign in the international professional circuit – Robert Garcia, 31, David Pelino, 23, MacMac Begornia, 24 and Myca Aribado, 23. Garcia climbed from No. 478 in the world ladder to No. 342 to No. 275 in only a year while Aribado moved from No. 220 to No. 175 to No. 128 to No. 98 in becoming the first Filipino ever to crack the top 100. The other players in the SEA Games squad are Rafa Yam, 18, Aysah Dalida, 24, Isabelle Gotuaco, 21 and Joan Aribado, 16.
Bachmann said the danger of spreading the players too thin across nine events is a challenge. "We've trained extra hard to be ready," he said. "We'll be the fittest team. We're prepared to do whatever it takes to bring home our first gold medal. It won't be easy because Malaysia and Singapore are heavy favorites. Personally, I'm hoping for gold medals in jumbo doubles for men and women. Ironically, there are no jumbo courts in the Philippines. That's why our team is now in Singapore training in jumbo doubles with our coaches (Valentino Bong and Jun Paganpan). They were in New Zealand for 36 days of training before that so it's been a hectic schedule. From Singapore, our players will go straight to K. L. for the SEA Games."
Bong, 28, is ranked No. 134 in the world. At the 2015 SEA Games, he played for Malaysia and bagged the gold in the team event. Bong is half-Malaysian, half-Filipino and his mother Gloria de Dios is from Cavite. He was signed by the PSC as national squash coach this year and will play for the Philippines at the 2018 Asian Games and 2019 SEA Games. Under squash eligibility rules, a player may transfer from one country to another with a legitimate passport after three years of residence.
"Valentino is pushing our team to the limit," said Bachmann. "He knows the level of competition in the SEA Games. Take Robert, for instance. With Valentino's guidance, he's bulked up from 128 to 140 pounds to improve his power while keeping his speed. We've also set up nutritional standards for every player." Since last year, the PSA has arranged foreign exposure for the squashers with the PSC's backing in tournaments in Myanmar, Indonesia, Australia, New Zealand, Taiwan, Hong Kong and Malaysia.
Bachmann said the country's first squash courts will be ready for public access at the Rizal Sports Complex by the end of the year. The PSC is financing the construction of two singles courts, adjustable to one international doubles court, with office and dressing room facilities. Down the road, Bachmann said he is seeking private sector support for the building of an eight-court public complex that will spark a boom in the sport.
Squash was rated as the world's healthiest sport by Forbes in terms of cardio endurance, strength/muscle endurance, flexibility, calorie burning and injury risk. After squash, the other sports in order of ranking are rowing, rock-climbing, swimming, cross-country skiing, basketball, cycling, running, modern pentathlon and boxing.