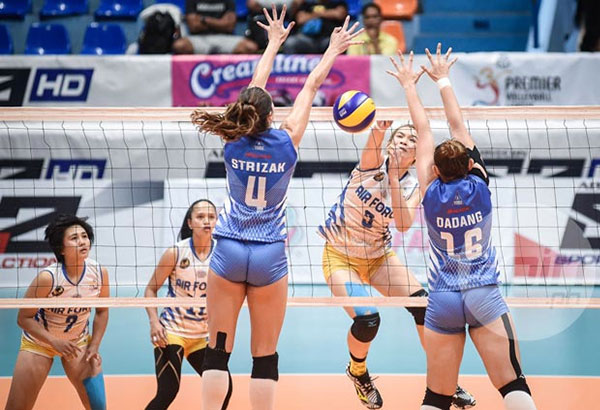 Pacharee Sangmuang, a Thai spiker based here the last three years, is suiting up for the Power Smashers in the Premier Volleyball League Open Conference, which gets under way July 1. File
Power Smashers load up for PVL Open tournament
Joey Villar
(The Philippine Star) - June 19, 2017 - 4:00pm
MANILA, Philippines - Pacharee Sangmuang, a Thai spiker based here the last three years, is suiting up for the Power Smashers in the Premier Volleyball League Open Conference, which gets under way July 1.
Power Smashers coach Nes Pamilar said Sangmuang, Thailand's former national team captain, can play in the local league since she has acquired an Alien Certificate Registration (ACR) three years ago.
Sangmuang will thus become the second foreign player to see action in the country's premier volley league after Amy Ahomiro, a Kiwi national, was allowed to suit up for the BaliPure Water Defenders last year.
Ahomiro is now with the Perlas Lady Spikers.
"She has been living in the country since 2014 and has an ACR to back that up. She goes back to Thailand from time to time but most of the year, she's here," said Pamilar of the 5-11 wing spiker.
Sangmuang, 39, is expected to provide the leadership for a team loaded with young and talented but inexperienced players, including Reine Arocha, Vira Guillema, Alina Bicar, Kat Villegas, Jovelyn Prado and Joyce Sta. Rita.
"We need a leader like Pacharee in our team because all our players are still young," said Pamilar.
Sangmuang played as an import for Air Force in the recently concluded Reinforced Conference.
Sangmuang was Thailand's skipper from 1997 to 2007 and has suited up for several Thai club teams and played as an import for Fujian Xi Meng Bao in China in 2004 and Aurum in Russia in 2005.
She also saw action for Letran in 2012, Cagayan Valley in 2013 and 2014 and Adamson in 2014 in the pioneering Shakey's V-League.