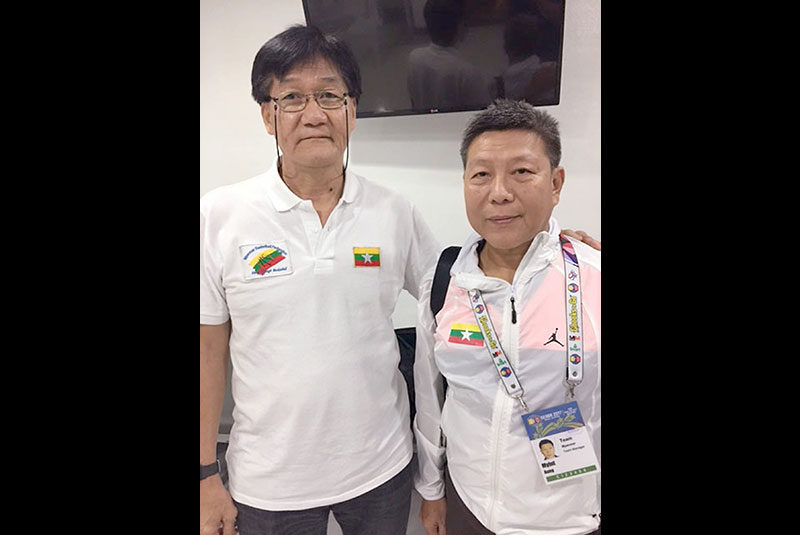 Myanmar head coach Tan Kok Heng and team manager Aung Myint.
Coach recalls beating Pinoys
MANILA, Philippines - Myanmar head coach Tan Kok Heng said the other day in nearly 50 years as a Malaysian national player and coach, he'll never forget two games which the Philippines lost.
Tan was a 27-year-old player when Malaysia upset the Philippines, 77-76, in the preliminaries of the Southeast Asian Games in Manila in 1981. The Philippines, however, rebounded to beat Malaysia, 91-74, in a tumultuous final marred by a brawl before a sellout crowd that included President Marcos at the Rizal Memorial Coliseum. Pilo Pumaren was the Philippine coach and his players included Ed Cordero, Ricky Relosa, Frankie Lim, J. B. Yango, Elmer Reyes and Franz Pumaren.
Tan later retired from playing and became the Malaysian national coach. In 1994, he piloted Malaysia to an 87-76 win over the Philippines in the first-ever SEABA Championships in Johore. Malaysia went on to capture the crown and the Philippines finished fourth behind runner-up Thailand and third placer Indonesia. The Philippines was coached by Virgil Villavicencio and the players included Allen Patrimonio, Rensy Bajar, Gerard Francisco, Romel Adducul and now Sen. Joel Villanueva.
"I was a Malaysian national player for 10 years and only 17 when I played against (Sonny) Jaworksi," said Tan, now 63. "I remember playing many games and many tournaments in Manila against many great players. I'll never forget that game where we beat the Philippines in Manila. That was a big upset. Then, I coached our national team to a win over the Philippines in SEABA in 1994."
Tan was no longer in the roster when Malaysia whipped the Philippines, 107-99, on the way to the gold medal at the SEA Games in Kuala Lumpur in 1989. The Philippine coach was Derick Pumaren and his players included Apet Jao, Jun Limpot, Johnedel Cardel, Larry Villanil, Jun Reyes, Gerry Esplana and Vergel Meneses.
A month ago, Tan was hired by Myanmar to take over the national team reins up to the SEA Games in Kuala Lumpur this August. "Our goal is for Myanmar to improve game after game," he said. "We're a young team but we play hard."
Tan is in town with the winless Myanmar team for the SEABA Championships. The squad nearly didn't arrive because the clearance from the Myanmar government came late. At first, 10 players flew in and later, two more. Myanmar submitted its lineup with incomplete information to SEABA a day before the April 28 deadline but escaped sanction because this is only the country's second SEABA appearance since finishing sixth in 1994. Myanmar eventually turned in the missing passport numbers of eight players.
The age range of the Myanmar players is 17 to 23. Only 5-11 Aung Phyo Wai and 6-4 1/2 Kaung Myat Aye were retained from the national team that placed eighth of nine at the SEA Games in 2015. Myanmar beat Timor Leste, 83-57, to avoid the cellar with Aung Myint collecting 26 points, 16 rebounds and five assists. For Manila, Myint and Myanmar's other top player Justin were unavailable because of back issues. Myint, 21, and Justin, 22, are by far Myanmar's best players. Team manager Aung Myint, 54, is a namesake.
Against Gilas, Myanmar was mercilessly crushed, 147-40, last Friday. Aung Wana, 22, was the only Myanmar player who scored in double figures with 12. The only bright spot was Myanmar hit a perfect 5-of-5 free throws. Wana was once more the only Myanmar player to hit in twin digits with 10 in the 102-35 loss to Thailand last Monday.
When Myanmar hosted the SEA Games in 2013, American Scott Duke was hired to coach the basketball team but couldn't turn things around. Myanmar finished last with a 0-6 record. With Tan, Myanmar hopes to make some headway. But the results from SEABA show no progress. After four games, Myanmar is averaging 37.8 points and giving up 102.8. Myanmar shot its tournament-high of 44 against Vietnam but lost by 33.
Tan said he was concerned that a group of young boys helped themselves to the team's towels on the bench after the Gilas game. But none of the players' personal belongings was taken. He said in every visit to Manila, he learns more about basketball because of the high level that Filipinos play.