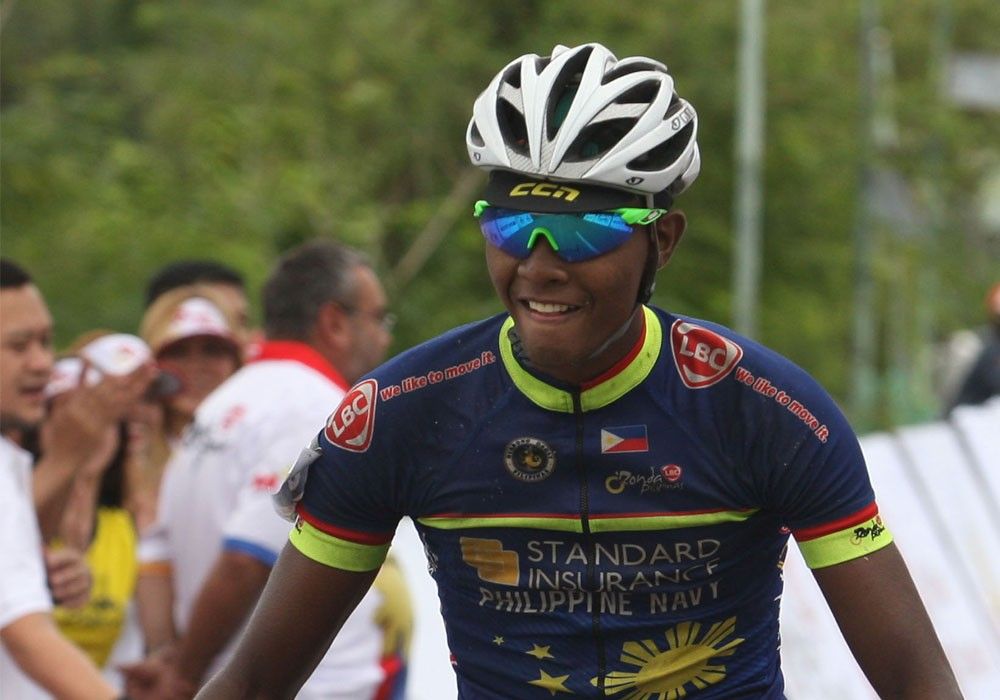 Jay Lampawog of Navy-Standard Insurance
Navymen Lampawog, Morales finish 1-2 in Ronda Stage 8
Joey Villar
(philstar.com) - February 17, 2017 - 5:29pm
UNISAN, Quezon – Navy-Standard Insurance's Jay Lampawog took Stage Eight honors while teammate Jan Paul Morales finished second to zoom to the top in the LBC Ronda Pilipinas 2017 in this scenic seaside town here Friday.
Lampawog, a 19-year-old Villasis, Pangasinan native who was the best young rider two years ago, blitzed past everyone to win the 187-km stage in four hours, 29 minutes and 29 seconds for his very first lap triumph.
"I consider myself blessed for allowing me to experience winning a stage here," said Lampawog, a product of LBC Ronda Pilipinas' program of discovering fresh talents from the provinces, in Filipino.
Roque and Bike Extrme's Jaybop Pagnanawon came in second and third as they towed the chase pack that clocked identical times of 4:30:39.
It included Go for Gold's Jonel Carcueva, Bryant Sepnio and Jigo Mendoza and Ilocos Sur's Ryan Serapio.
The day, however, belonged to the 31-year-old Morales, whose bid of becoming the first ever back-to-back winner of the country's biggest cycling race is starting to turn into a reality as he is now at the helm from No. 3 the day before with an aggregate clocking of 28:55:16.
The Calumpang, Marikina City native is now a little over two minutes ahead of Roque, who was stuck in the peloton and never really recovered to slide to second with a total time of 28:57:09.
Navy's Ronald Lomotos is at No. 3 with 28:59:30.
The podium finish came just a day after Morales reigned supreme in the 227-km Daet-Quirino-Quezon-Daet Stage Seven where he almost succumbed to severe cramping.
"My team helped me today. we executed our plan well," said Morales.
For Lampawog, he jumped into the top 10 for the time with 29:04:33.
Carcueva, a 21-year-old daredevil rookie from Menganilla, Cebu, was also a big gainer as he leapt from No. 10 the day before to No. 4 with 29:00:19, or just around five minutes off the pace.
Kinetix Lab-Army was bumped off from No. 4 to No. 5 with 29:00:24, while rounding up the top 10 were Go for Gold's Ryan Sepnio (29:02:08) and Elmer Navarro (29:02:15), RC Cola-NCR's Leonel Dimaano (29:02:22) and Go for Gold's Ismael Grospe Jr. (29:04:20).
Carcueva also leads the best young rider race ahead of Grospe and Lampawog.
Carcueva's rise though was not without some accidents as he recovered from a spill in the final 80 kms.
"I crashed in the middle of the race but I managed to get up and continue the race. Good thing I still finished well," said Carcueva, who scraped his left knee and hurt his left shoulder.
Interestingly, Carcueva also fractured his left hand after he fell into a ravine in the Ronda qualifying race in Bacolod City late last year.
"I thought I was going to die there because I was running 68km an hour downhill and lost my break. Still thankful I'm still racing," said Carcueva, who gave up studying after his third year high school to focus on dancing and singing on a rock band before deciding to go cycling.
Carcueva also dedicated his success to his one-year-old son, Lian.
"This is for my son, who celebrated his first birthday last February 5," he said.
Ronda is staking P1 million to the champion courtesy of presentor LBC and in partnership with MVP Sports Foundation, Petron, Mitsubishi, Versa.ph, Partas, Maynilad, Standard Insurance, CCN, Bike Xtreme, NLEX, PhilCycling and 3Q Sports Event Management.