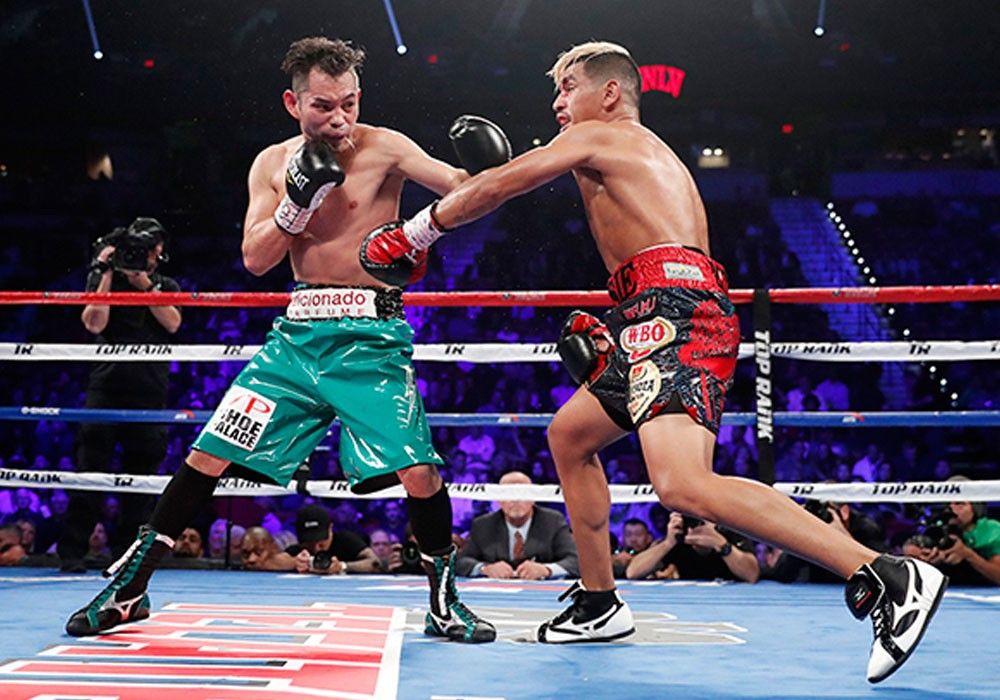 Jessie Magdaleno, right, and Nonito Donaire, of the Philippines, fight during their WBO junior featherweight title boxing match Saturday, Nov. 5, 2016, in Las Vegas.
AP Photo/Isaac Brekken
Donaire says Magdaleno turned down rematch
MANILA, Philippines – Jessie Magdaleno, who dethroned Nonito Donaire Jr. for the WBO super bantamweight title last year, apparently no longer wants any part of the Filipino-American fighter.
Donaire, in a lengthy post on Facebook, detailed how Magdaleno and his team rejected Top Rank Inc.'s offer for a rematch.
"After sitting with [Top Rank president] Todd Debeouff and Top Rank Lawyer Harrison and asking for the rematch against Magdaleno, I received a call from them stating what Todd, Harrison, [Donaire's manager] Cameron [Dunkin] and I all knew in the prior meeting, that Magdaleno and his team would 'rather' choose someone else than fight me again," the 34-year-old Donaire wrote.
The two fighters slugged it out in an action-packed bout in the undercard of Manny Pacquiao's fight with Jessie Vargas in Las Vegas last year, with Magdaleno escaping with unanimous decision.
Donaire contested the result, believing he won the 12-round title fight, and has since been calling out Magdaleno to give him a rematch.
But it appears Donaire will not get the opportunity any time soon, even after claiming to have received a verbal commitment from Magdaleno to do it again.
"Fighting me would give Magdaleno the biggest payday in 122 [pound/super bantamweight division] esp with us both under Top Rank banner and he says he'd beat me 'easier' in a rematch... so why not you ask? For whatever his excuse and reason, know I went after the rematch especially after he AGREED to it postfight in medical," he continued in his Facebook post.
Donaire, who has also won titles at flyweight, super flyweight, bantamweight and featherweight, said he is willing to take on any comers as he continues to build his legacy.
"I have constantly tried to create a legacy of my own. Through wins and losses I have tried to give my fans the best fights but I have to have a willing opponent who doesn't run from the opportunity to create great fights, fights worth watching. Until we find the next opportunity to fight, thank you for your belief and support in me," he said.